Crude oil prices today (Monday, April 18) plunged below $39 after the oil market's worst fear was realized. Yesterday's highly anticipated Doha meeting ended with no deal on an output freeze.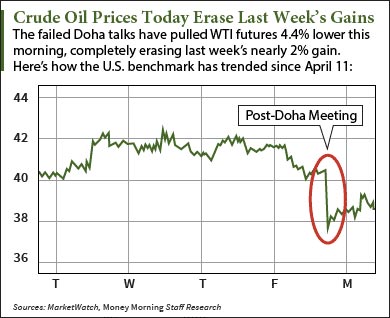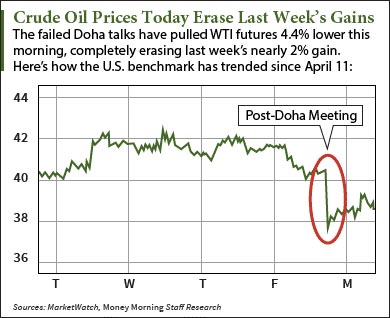 At 9:10 a.m., West Texas Intermediate (WTI) crude oil prices were down 4.4% and trading at $38.58 a barrel. The U.S. benchmark had already completely erased last week's gain of 1.6%. Futures for May delivery are now up a modest 0.6% in April.
Brent crude oil prices today also saw a sharp decline during early morning trading. The global benchmark – priced in London – fell 4.1% to $41.29 a barrel. Futures now trade at their lowest level since April 7.
And it's all thanks to the failure of the biggest oil meeting in decades…
Why Crude Oil Prices Today Fell After the Doha Meeting
Crude oil prices are in a free fall today as investors panic following the Doha meeting.
Yesterday, more than a dozen of the world's largest oil-exporting countries met in the Qatari capital to discuss a deal to freeze output. The most notable attendees were Saudi Arabia, Russia, Venezuela, Algeria, and Nigeria.
But the mix of OPEC and non-OPEC nations failed to reach an agreement thanks to the ongoing conflict between Saudi Arabia and Iran. The Saudis refused to take part in the deal after Iran said it wouldn't freeze output.
Since the beginning of the year, Iran has ignored requests from the rest of OPEC to keep output steady. That's because the country wants to ramp up oil exports to 4 million barrels a day to make up for a decade of economic sanctions that halted oil revenue. With more than 157.5 billion barrels of reserves – the third most of any OPEC member – the country was sitting on a gold mine it could never profit from.
Now the Saudis are threatening to fight their main rival the same way they've fought all other competitors during the price crash – by pumping more oil.
In a Bloomberg interview on Saturday, Saudi Deputy Crown Prince Mohammed bin Salman said his country could boost output to 11.5 million barrels a day right away if he wanted. He also said output could rise to 12.5 million barrels a day in six to nine months.
But not even Saudi Arabia – the most dominant oil producer in the world – can afford to flood the market with more oil.
That's because there's a $608 billion Saudi debt crisis – and this chart shows how it could get worse if oil prices don't recover soon…
Here's Just How Bad Saudi Arabia's Debt Crisis Is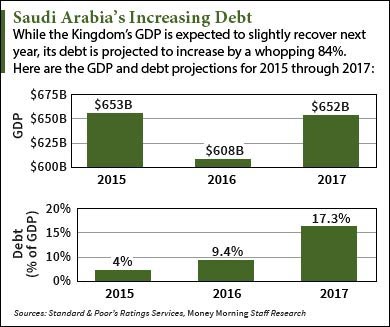 Saudi Arabia's debt is climbing at an alarming pace.
Ratings agency Standard & Poor's (S&P) expects the country's debt to hit $608 billion this year – or about 9.4% of the annual GDP. It's projected to hit 17.3% in 2017 – the highest of the last decade.
That's why S&P cut the OPEC leader's debt rating twice in the last six months. A national debt rating measures how risky a country's economy is for foreign investors. Successive downgrades make it more expensive for a country to borrow money on the global market.
On the S&P scale, each country's debt rating ranges from "AAA" – the best credit rating – to "D." Last October, Saudi Arabia's rating was cut from "AA-" (the low end of the "very high grade credit" range) to "A+" (the high end of the "high grade credit" range).
And on Feb. 17, S&P slashed it again from "A+" to "A-" (the middle of the "medium grade credit" range). That was when WTI crude oil prices hovered near $35 a barrel.
With crude oil prices today back near those levels, the Saudi economy will struggle until the market fully stabilizes.
But Saudi Arabia is developing a strategy to completely get rid of its debt. According to Money Morning Global Energy Strategist Dr. Kent Moors – a 40-year veteran of the oil industry who's advised the highest levels of U.S. and Russian energy agencies – this plan involves indirectly selling its private oil wealth to the public.
"The country just announced a fundamental change in its strategy," Moors said on April 15. "Using its vast oil wealth, Saudi Arabia will create the single largest publicly traded stock in the world."
"Make no mistake. By giving the Saudis control over boardrooms worldwide, this new strategy will impact every single investor on the planet…"
Alex McGuire is an associate editor for Money Morning who writes about energy. Follow him on Twitter for all the biggest updates on crude oil prices today.
Like us on Facebook: Money Morning
Related Articles: