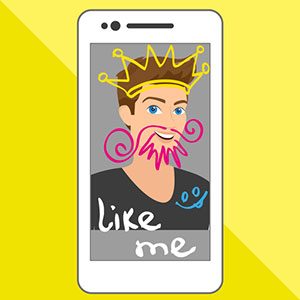 There's no official IPO date yet, but Snap Inc. stock is already the buzz of Wall Street right now because of its massive $25 billion valuation.
There are estimates Snapchat could be valued at $40 billion by the time of its IPO. That would make it the biggest IPO since Alibaba Group Holding Ltd. (NYSE: BABA). Plus, projections for Snap Inc. stock's earnings growth are extremely robust.
And strong earnings growth potential can lead to strong investor interest.
Today, we'll provide you with everything you need to know about Snapchat before the stock hits the market. We'll also share our exclusive guide to investing in Snapchat.
But first, here's a brief history of Snapchat and how it's grown so fast in five years…
The History of Snapchat
The development of Snapchat was driven by concerns that employers were making hiring decisions based on what users had posted on Facebook Inc. (Nasdaq: FB).
It was also spurred by initial uncertainty about whether posted information could be reliably removed from Facebook. That's why Snapchat's most appealing feature for many users is that pictures and videos disappear after 10 seconds.
Its second major selling point is that users can be creative with the messages and images. Captions, animations, additional pictures, and doodles can all be added to messages and pictures.
It also has a more "now" orientation than Facebook.
The idea behind Snapchat is users share what they are doing right at the moment, rather than posting an experience that has happened in the past.
And because of its popularity, Snapchat's revenue is rapidly growing…
Snapchat Revenue Grows Rapidly
Right now, Snapchat makes the bulk of its money through advertising revenue.
According to eMarketer, Snap Inc. could generate $250 million in video ad revenue this year.
Snapchat also makes money via a product called "Sponsored Lenses." It allows users to place unique filters over their pictures. For example, 20th Century Fox provided Snapchat users a way to take selfies with characters from "The Peanuts Movie."
Sponsored Lenses are expected to generate revenue of $102 million this year, according to eMarketer.
The company also plans to roll out a product called Snapchat Spectacles, a type of sunglasses that will capture video for 10 seconds and post it to Snapchat wirelessly. Spectacles won't contribute to the bottom line immediately, but they do give Snapchat a unique feature.
And Snapchat's uniqueness has helped revenue skyrocket…
In 2014, Snap Inc. earned $3.1 million in revenue. This year, revenue is expected to hit $367 million.
That's an increase of 11,738% in just two years, but there are even bigger gains ahead…
By 2018, Bloomberg projects Snapchat will generate $1.78 billion in revenue. The revenue growth rate is impressive. It will take Snapchat seven years to reach that figure, while it took Twitter Inc. (NYSE: TWTR) nine years to reach $2.2 billion in revenue.
And this rapid Snapchat revenue growth is fueled by Snapchat's appealing demographics to advertisers and growing user base.
Snapchat is heavily used by teenagers and millennials (the 18 to 35 age group), which are groups that advertisers covet.
According to Bloomberg, 70% of smartphone users in the 18- to 24-year-old age bracket use Snapchat. A number of large U.S. corporations like Taco Bell and Under Armour Inc. (NYSE: UA) advertise on Snapchat to reach these younger demographics.
The bracket after that, 25- to 34-year-olds, has been rapidly signing up for Snapchat. In June 2013, just 6% of this age group used Snapchat.
In June 2016, 41% of 25- to 34-year-olds used Snapchat.
Right now, Snapchat's monthly active users (MAUs) total 235 million. Analysts at Cantor Fitzgerald report that the average Snapchat user spends almost 10 minutes each day on Snapchat.
In comparison, Instagram users spend roughly six-and-a-half minutes per day on Instagram.
Snapchat's growing revenue and engaged audience will make it one of the most hyped IPOs to hit the market. But before buying Snapchat stock, we wanted to make sure investors knew the risks and best investing strategies heading into the IPO.
Here's what you need to know before buying Snap Inc. stock…
Should I Buy Snap Inc. Stock?