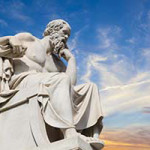 In Plato's "Republic," protagonist Socrates takes the Delphic aphorism "know thyself" as his personal motto.
It's a great motto... especially for investors.
As a market veteran of many years, I can tell you that this is one of the biggest weaknesses most investors have.
They don't know themselves...
I watch as folks take losses and miss out on profits - mistakes they could have easily avoided if they'd only taken the time to know their investing personalities just a little bit better.
So today I want to demonstrate how to transform yourself into the "Socrates of tech investing."
It's easier than you'd think.