The sharp drop in the price of gold during the last two months of 2016 destroyed traders' faith in the gold market.
As gold prices fell 10.9% to $1,151.70 from Nov. 1 to Dec. 30, traders and analysts surveyed by Bloomberg grew increasingly bearish. On Nov. 25, the percentage of bearish traders and analysts was roughly 19%. That climbed to 35% on Dec. 2 when the gold price hovered near a 10-month low of $1,177.80. While that bearishness retreated back to about 19% on the Dec. 23 survey, this was still a large percentage of gold traders who saw gold continuing to fall.
Don't Miss: One of Our Best Stocks Could Double Your Money by 2020
But that bearish sentiment wouldn't last, and by Jan. 6, roughly 70% of those surveyed had turned bullish. Now, this increasing bullishness will push the price of gold up 15.2% from their current $1,215 level by the second half of 2017.
Here's why confidence is returning to the gold market...
[CHART] Traders Are Embracing Gold Again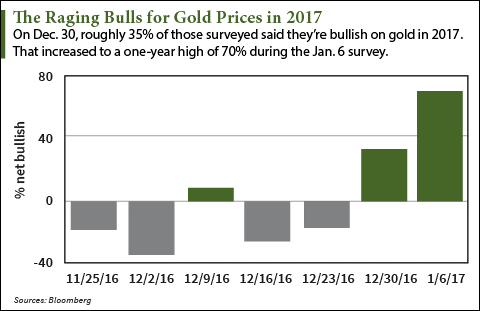 As you can see, the last week of 2016 marked a tremendous shift in gold price sentiment. From Dec. 23 to Dec. 30, the percentage of bullish gold analysts and traders soared by about 50%. The following Bloomberg survey on Jan. 6 saw another 20% increase, putting the total percent of bullish surveyed participants at 70%. They said increased bullion buying in India and looming inflation from Trump's economic policies were reasons to be optimistic about gold prices in 2017.
This bullish shift among gold participants also marked a sharp rise in the price of gold. Between the Dec. 23 survey and Jan. 6 survey, the price of gold gained 3.5% from $1,133.60 to $1,173.40.
And Money Morning Resource Specialist Peter Krauth believes improving sentiment will continue to boost the gold price in 2017. He expects it to rise 15.2% by June 2017 at the earliest.
Here's the one factor that will fuel his price prediction - and negatively affect the entire economy...
Bullish Sentiment Will Push the Price of Gold to This Target by Q2 2017