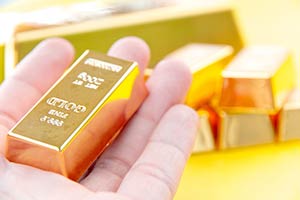 Are gold prices going up in 2017?
The recent gold price volatility has metals investors asking that question. After all, gold prices have dropped 10.6% since November following a nine-month gain of 23.2%. Now there's concern that gold prices will continue their slump this year.
The biggest reason why gold prices are down over the last two months is the rising U.S. dollar. Following the presidential election and December FOMC decision to raise interest rates, the dollar has soared. It's up 4.3% since the Nov. 8 election and hit an all-time high of 103.25 basis points a week after the Dec. 14 rate hike.
Since gold is priced in dollars, the dollar's rising value decreases the price of gold. That's because the metal becomes more expensive to consumers who use other currencies, thus lowering demand.
Don't Miss: This Is the Biggest Sign of a 2017 Stock Market Crash
But there's another metric that's even more important to consider when looking at the future of gold prices.
In fact, this metric is one of the world's oldest financial tools - and it's also nearing its highest level ever...
Is the Price of Gold Going Up This Year? Look at the Dow for an Answer
The record high in the stock market right now, especially the Dow Jones Industrial Average, tells us a lot about gold prices in 2017.
Last Friday, Jan. 6, the Dow Jones came within less than a point of the 20,000 mark for the first time ever. The milestone has been talked about since the index first closed above 19,000 on Nov. 22. As of Jan. 9, the Dow Jones is up 7.4% in the last two months.
But these dizzying market highs typically point to a big economic problem: rising inflation.
Inflation tends to rise when the market soars. That's because the U.S. dollar typically rises alongside stock prices. This growth can be a bad economic indicator because it reduces the dollar's purchasing power.
The latest data from November 2016 shows the annual inflation rate at 1.69%. Let's say you want to buy a bottle of water for $1. After accounting for inflation, the $1 bottle of water will theoretically cost $1.0169 (or $1.02 rounded to the nearest cent) by December 2017. This increase can dissuade companies and consumers from spending, which fundamentally hurts the economy.
This could lead to a stock market sell-off if investors start to panic. Since gold is viewed as a safe haven, gold prices will rise as investors hedge against the effects of inflation and the dangerously high dollar.
"As we see inflation ramp up higher, then that mindset settles in and people start thinking we're in an upward inflation cycle," noted Money Morning Resource Specialist Peter Krauth - a 20-year veteran of the metals sector. "When that spreads, people look for hedges for that."
So, the answer to "are gold prices going up in 2017" is yes. We see the gold price staging a big turnaround this year.
Here's our full gold price prediction for 2017...
Are Gold Prices Going Up This Year? Yes, Here's Our Price Target
[mmpazkzone name="in-story" network="9794" site="307044" id="137008" type="4"]
Krauth sees gold prices rising 18.2% to $1,400 by June. In addition to inflation, Donald Trump's economic policies will also fuel the gold price rally this year.
"With a new president bent on stimulating the economy through tax cuts and massive spending, along with a number of overbought markets, 2017 could turn out to be a strong year for gold," Krauth said on Dec. 23.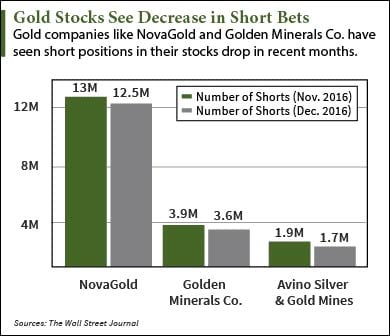 But the biggest indicator that gold sentiment is improving is the falling volume of short bets...
You see, investors are starting to sell their shorts on gold stocks. One of these is NovaGold Resources Inc. (NYSEMKT: NG), a $1.5 billion gold mining firm whose number of short positions fell 3.8% from 13 million to 12.5 million between November 2016 and December 2016.
The improving sentiment is also clear from the recent performance of the Gold Bugs Short Index (HUISH). This index tracks the short positions on gold miners that don't hedge their long-term gold production based on gold price movements. It's down 12% in the last month, indicating that short interest in gold companies is falling as well.
The Bottom Line: Since early November, gold prices have been ravaged by the surging dollar. This weakness has investors asking the question: are gold prices going up in 2017? Here at Money Morning, we believe the gold price will rise 18.2% to $1,400 by the start of Q3. This rally will be fueled by rising inflation, Trump putting his business policies in place, and the falling number of gold shorts.
Urgent: For only the third time in 20 years, a metal more rare and more exotic than gold is about to make stock market history. And it's poised to make early investors a lot of money. Get the full story.
Alex McGuire is an associate editor for Money Morning. Follow him on Twitter.