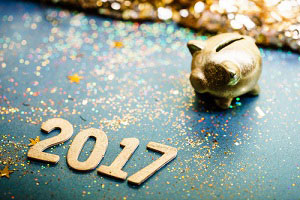 This list of our best stocks to buy for January 2017 has top picks that will deliver consistent gains well into the new year, no matter where markets go next.
Right now investors are closely watching the Dow Jones as it nears a major milestone: 20,000. The Dow hovered near 19,950 shortly after the opening bell on Wednesday, Dec. 28.
Markets have a strong upward bias over time. So there's really no question of if the Dow will reach 20k - it's a matter of when.
And while 20,000 is just a number, that psychologically important level could act as a catalyst, spurring even more gains in the coming year.
Some of the picks on our latest stocks to buy list are companies that will benefit after Donald Trump is sworn in as president of the United States on Jan. 20. Others are tied to tech trends that should hit the mainstream in 2017, unleashing incredible profit potential.
We even found a way to profit on the much-anticipated release of the iPhone 8 in September without buying a single share of Apple - seven ways, in fact...
Best Stocks to Buy for January 2017, No. 1: Trump's Tweets Are No Match for This Healthcare Giant
We've seen by now how President-elect Trump can send a company's stock into free-fall just by targeting the firm in a fiery 140-character tweet. So Money Morning Director of Technology & Venture Capital Research Michael Robinson went on the hunt for a stock to buy that would be impervious to Twitter-induced volatility.
This healthcare firm is one of the sector's biggest players. While its share-price gains this year are impressive at 38%, the catalysts lining up for 2017 will help this stock climb even higher.
For one, Trump has vowed to repeal Obamacare, which is great news for health insurance companies that have struggled to stay profitable under the healthcare law. Even if the Affordable Care Act isn't eliminated entirely, a revamped version is likely to have a big impact on insurers' bottom line.
Demographics is another trend that makes this company's shares a good long-term investment. People 65 and older will make up 21.7% of the U.S. population by 2040, increasing to a third of the population by 2060. The "graying of America" practically guarantees continued growth in the health insurance sector.
This company just raised its guidance for 2017 beyond what analysts were expecting. Robinson says it's only a matter of time before Wall Street (and everyone else) catches on. Get the ticker for this January 2017 stock to buy right here - and get in ahead of the crowd...
Best Stocks to Buy for January 2017, No. 2: Cash In on Artificial Intelligence with This Tech Stock
Michael Robinson also has his eye on a tech trend he believes is on the cusp of going mainstream in 2017. It's a subsector of artificial intelligence (AI), a market expected to grow to $5.05 billion by 2020.
"Chatbots" are becoming increasingly vital to companies' customer service operations. You may have already chatted with a bot on your computer or smartphone and not even realized it, perhaps when canceling cable service or asking a question about an order you placed online.
To be effective, these chatbots need the right software and platform - and one company has already developed it.
Conversational user interfaces, like this tech firm's chatbots, will grow to a $600 billion market by 2020. Chatbots and other AI initiatives this company is pursuing, such as facial recognition, will help power this stock to new heights in 2017 and beyond.
That's no small feat, considering shares have already gained roughly 50% since February 2015, when Robinson predicted they would double by 2018. And with adjusted earnings growing at an annual rate of 75%, Robinson expects shares to hit $250 by 2020 - a gain of 112% from today's price.
With so many Americans having nothing (or next to nothing) saved for retirement, this is the kind of "double your money" opportunity you won't want to miss. Learn more about this best stock to buy for January 2017 right here...
Best Stocks to Buy for January 2017, No. 3:  Profit on the 10th Anniversary iPhone (Without Buying Apple)