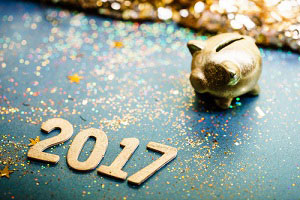 This list of our best stocks to buy for January 2017 has top picks that will deliver consistent gains well into the new year, no matter where markets go next.
Right now investors are closely watching the Dow Jones as it nears a major milestone: 20,000. The Dow hovered near 19,950 shortly after the opening bell on Wednesday, Dec. 28.
Markets have a strong upward bias over time. So there's really no question of if the Dow will reach 20k - it's a matter of when.
And while 20,000 is just a number, that psychologically important level could act as a catalyst, spurring even more gains in the coming year.
Some of the picks on our latest stocks to buy list are companies that will benefit after Donald Trump is sworn in as president of the United States on Jan. 20. Others are tied to tech trends that should hit the mainstream in 2017, unleashing incredible profit potential.
We even found a way to profit on the much-anticipated release of the iPhone 8 in September without buying a single share of Apple - seven ways, in fact...
Best Stocks to Buy for January 2017, No. 1: Trump's Tweets Are No Match for This Healthcare Giant
We've seen by now how President-elect Trump can send a company's stock into free-fall just by targeting the firm in a fiery 140-character tweet. So Money Morning Director of Technology & Venture Capital Research Michael Robinson went on the hunt for a stock to buy that would be impervious to Twitter-induced volatility.
This healthcare firm is one of the sector's biggest players. While its share-price gains this year are impressive at 38%, the catalysts lining up for 2017 will help this stock climb even higher.
For one, Trump has vowed to repeal Obamacare, which is great news for health insurance companies that have struggled to stay profitable under the healthcare law. Even if the Affordable Care Act isn't eliminated entirely, a revamped version is likely to have a big impact on insurers' bottom line.
Demographics is another trend that makes this company's shares a good long-term investment. People 65 and older will make up 21.7% of the U.S. population by 2040, increasing to a third of the population by 2060. The "graying of America" practically guarantees continued growth in the health insurance sector.
This company just raised its guidance for 2017 beyond what analysts were expecting. Robinson says it's only a matter of time before Wall Street (and everyone else) catches on. Get the ticker for this January 2017 stock to buy right here - and get in ahead of the crowd...
Best Stocks to Buy for January 2017, No. 2: Cash In on Artificial Intelligence with This Tech Stock
Michael Robinson also has his eye on a tech trend he believes is on the cusp of going mainstream in 2017. It's a subsector of artificial intelligence (AI), a market expected to grow to $5.05 billion by 2020.
"Chatbots" are becoming increasingly vital to companies' customer service operations. You may have already chatted with a bot on your computer or smartphone and not even realized it, perhaps when canceling cable service or asking a question about an order you placed online.
To be effective, these chatbots need the right software and platform - and one company has already developed it.
Conversational user interfaces, like this tech firm's chatbots, will grow to a $600 billion market by 2020. Chatbots and other AI initiatives this company is pursuing, such as facial recognition, will help power this stock to new heights in 2017 and beyond.
That's no small feat, considering shares have already gained roughly 50% since February 2015, when Robinson predicted they would double by 2018. And with adjusted earnings growing at an annual rate of 75%, Robinson expects shares to hit $250 by 2020 - a gain of 112% from today's price.
With so many Americans having nothing (or next to nothing) saved for retirement, this is the kind of "double your money" opportunity you won't want to miss. Learn more about this best stock to buy for January 2017 right here...
Best Stocks to Buy for January 2017, No. 3:  Profit on the 10th Anniversary iPhone (Without Buying Apple)
[mmpazkzone name="in-story" network="9794" site="307044" id="137008" type="4"]
Supplier stocks for Apple Inc. (Nasdaq: AAPL) have been sought out as a "back door" way to profit from the success of the tech behemoth ever since the debut of the first iPhone in 2007. And right now is a particularly good time to get in on these shares, because next September, Apple will release a 10th anniversary edition of its iconic smartphone.
The iPhone 8 is expected to pack a more substantial upgrade than the previous two models, with the potential to drive record sales of the device. That could translate to blockbuster gains for certain supplier stocks, too. For example, when Apple released the iPhone 6 in September 2014, one supplier's shares gained a stunning 62% over the next nine months.
All told, select Apple supplier stocks are shaping up to be some of the best stocks to buy for 2017. But it's not as simple as putting your money into a basket of companies Apple does business with. A supplier needs to derive a significant proportion of its revenue from the iPhone maker and trade on a U.S. stock exchange.
You could spend hours poring over the data to find the best picks out of hundreds of firms - or you could let Money Morning do the work for you. We found the seven best Apple supplier stocks to buy ahead of the iPhone 8 release next fall. Chip makers, gaming companies and app producers, casing manufacturers, and more, each has at least 20% exposure to Apple. One derives a full two-thirds of its revenue from Apple. Get all seven of these stocks to buy right here...
Best Stocks to Buy for January 2017, No. 4: Profit on China's Booming Consumer Economy with These Shares
President-elect Trump's tough talk about China on the campaign trail have many convinced we're now headed for a trade war. And that has China bears, who have been calling for the Asian nation's total economic collapse for 40 years now, ready to declare victory.
Yet as Money Morning Chief Investment Strategist Keith Fitz-Gerald explains, everyone betting against China is wrong - again. More important, they're overlooking a massive profit opportunity.
China's middle class now numbers 600 million. Consumer spending is growing by double-digits. They're also currently the largest outbound tourism group on the planet. In 2015, more than 120 million traveled abroad. Flush with cash and ready to buy whatever is "in," this is a rapidly expanding demographic you can't ignore.
It's something the CEOs of top tech companies already recognize...
Facebook Inc. (Nasdaq: FB) CEO Mark Zuckerberg is busy perfecting his Mandarin and courting Chinese officials in an effort to launch the social networking site there. And the Asian nation's burgeoning middle class is in part why Apple CEO Tim Cook is so determined to maintain market share in China.
To get your piece of the big profits the Red Dragon's surging consumer economy presents, Fitz-Gerald recommends two Chinese tech companies traded on U.S. exchanges. Each is a long-term profit machine; in fact, another Money Morning investing expert predicts one will hit $150 per share in a few years - a 70% gain from today's price.
For those who aren't comfortable investing in China directly, Fitz-Gerald suggests an American firm that plans to double its locations in China to 5,000 in just five years. You'll find all three of those stocks to buy right here...
Best Stocks to Buy for January 2017 No. 5: Build Long-Term Wealth with This "Massively Overlooked" Stock
Money Morning Executive Editor Bill Patalon has a reputation for being the a top stock picker, and with good reason. He's brought his Private Briefing paid subscribers more than 217 double- and triple-digit winners since 2011.
The company he's sharing with Money Morning readers today has what it takes to help investors truly grow their wealth. It's a leader in a necessary industry, and it has years of growth in its future.
What's more, it's often overlooked by investors who mistakenly write it off as a boring, rust-belt industrial company.
To the contrary, it's in the midst of a major transition to a "digital-industrial company." It's created a revolutionary software that will change the way data is generated, analyzed, and stored. This groundbreaking technology will be a real game-changer for this company -  every other industrial company in the world is going to need this software.
"This is a stock that is going to make you a lot of money over the long term," says Patalon. And the fact that it's currently flying under the radar means you can build your position now and get in at a low price, before this stock takes off.
Read all about this top stock to buy for 2017 - and be sure to watch the video, too - right here...
Now, One of Our Most Important Investment Updates for 2017: This Great Depression-era "secret" helped transform two teachers into millionaires. Read more...