Gold Prices
Why Gold Prices Will Rally in 2017
Gold prices ended 2016 on a down note, finishing Q4 2016 down 12.1% to $1,151.70.
The decline came on the heels of the presidential election and a December rate hike, which pushed the U.S. dollar to an all-time high of 103.25 basis points on Dec. 20. That lowered the price of gold because a stronger dollar made gold more expensive to people buying it with other currencies.
Despite that Q4 drop-off, gold prices still posted an annual gain for the first time in three years. The metal ended 2016 up 9%. Not to mention, it started the first two weeks of 2017 with another 5.6% rally.
Money Morning Resource Specialist Peter Krauth sees gold prices continuing their rebound in 2017. That's why Krauth – a 20-year veteran of the metals and mining sectors – just outlined his specific gold price targets for 2017.
But that's not all. We've also included our long-term forecast for gold prices in 2019.
Before we get to our price targets, here's a breakdown of the three factors that will support the gold price rally in 2017…
2017 Catalyst for Gold Prices No. 1: Rising Inflation
According to Krauth, inflation will be a huge boon for gold prices in 2017. And the inflation rate is poised to increase thanks to the record-high stock market and 10-year Treasury yield.
The inflation rate measures how much prices across the U.S. economy are generally rising. Since a rising stock market comes from rising stock prices, inflation – by definition – is a natural result of a stock market rally. But too much of this growth reduces the dollar's purchasing power, which damages the economy.
That's why the U.S. Federal Reserve manages inflation through interest rates. In December 2016, the Fed hiked its key interest rate by 0.25% to counter strong economic growth and record market highs. At the time of the rate hike, the Dow Jones Industrial Average and S&P 500 settled near all-time highs of 19,792.53 and 2,253.28, respectively.
As the Dow Jones gained 10.2% during the last half of 2016, bond yields soared 67.8% to 2.45%. Rising bond yields often indicate high inflation, and the latest figures from November show the annual inflation rate of 1.69% beats the short-term interest rate of 0.71%.
Since safe-haven assets like gold spike in demand when the dollar is volatile, gold prices will rise as people protect themselves from inflation.
2017 Catalyst for Gold Prices No. 2: Fewer Short Bets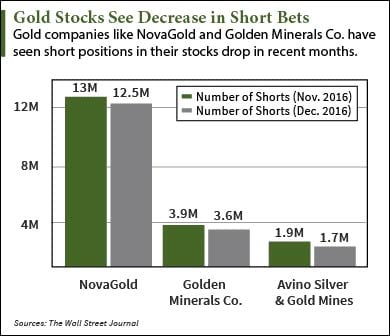 Another sign that the price of gold will rise this year is reduced short selling in the gold market.
A short position is when someone bets that a price will decline rather than increase. For example, if the gold price experiences a 5% loss, a short seller on that will make a 5% profit. A high volume of short bets on a stock or commodity indicates bearish sentiment in that particular market.
But the number of short positions in gold stocks is starting to fall. One of these is NovaGold Resources Inc. (NYSEMKT: NG), a gold mining company based in Canada. Between November 2016 and December 2016, the volume of short bets on NG stock declined 3.8% to 12.5 million. That shows a shift in sentiment from bearish to bullish in the gold market.
The improving sentiment for gold prices is also showing in short-based indices like the Gold Bugs Short Index (HUISH). This tracks short selling on mining firms that specifically refuse to cut gold production based on gold price movements. As of Jan. 11, HUISH has dropped 12.2% in the last month. That decline shows how short interest in gold companies is falling alongside short interest in gold prices.
2017 Catalyst for Gold Prices No. 3: The Strengthening Dollar
Investors typically consider gold prices and the dollar to have an inverse relationship. When the dollar rises, gold prices fall – and vice versa. This was certainly true in the last quarter of 2016 when the Fed's interest rate hike shot the dollar to an all-time high of 103.25 basis points in December.
But Krauth believes the gold price is capable of roaring through this high-interest-rate environment. That's because it's done it before in the past when rates were more than 15 times higher than their current 0.75% level…
During the 1970s, interest rates were consistently above 5%. When Arthur Burns was the Federal Reserve chair in 1974, he hiked rates to an unprecedented 13%. Five years later, new Fed Chair Paul Volcker pushed them to another all-time high of 15.5%.
While we commonly think this would've destroyed the gold market, gold prices actually skyrocketed through this era. The metal was 24 times more expensive at the start of the 1980s than it was at the start of the 1970s.
"Through all of this, gold enjoyed a kind of 'Golden Age,'" Krauth told Money Morning readers. "That was a bull market of epic proportions – the mother of and benchmark for all secular metals bulls."
That's why we don't expect the dollar to hurt gold prices over the long term. The momentum from the rate hike will wear off and the dollar will eventually lose some ground, leaving gold to profit from its decline.
Now that we've run through the three catalysts for gold prices, here's exactly where we see them heading in the short term and long term…
Our 2017 and 2019 Forecasts for Gold Prices
Krauth's newest gold price forecast shows the metal soaring to a multiyear high of $1,400 an ounce by the end of 2017.
"Gold is actively looking bullish right now," Krauth said. "It's not unreasonable to expect $1,400 farther into 2017."
And if history is any indication, gold could rocket all the way to $5,246 by 2019. That would be a tremendous 337% rise from the current price.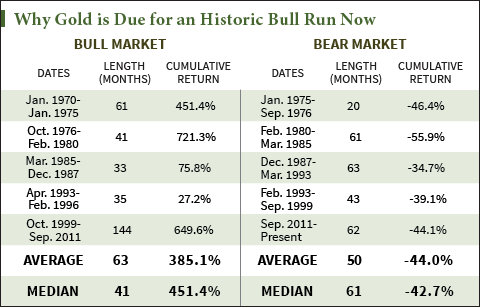 Although it fell 12.8% in the last quarter of 2016, the gold price is still in a bull market. After hitting a five-year low of $1,056 in November 2015, gold staged a 23% turnaround the following year. Even if gold prices see a dip in early 2017, it won't be dramatic enough to end their current bull market.
Since 1970, every bull market for gold prices has offered stunning returns. The median return and duration of each bull market over the last 47 years has been 451.4% and 41 months, respectively. Since gold bottomed in November 2015, we're roughly 14 months into the current bull market as of early January. That means the price of gold has room to gain 451.4% to $5,246 by the time we get to the first quarter of 2019.
FAQ No. 1: What Influences Gold Prices?
Although they often go hand-in-hand, the two most common factors behind gold price volatility are movements in the U.S. dollar and Fed speculation or decisions on rate hikes.
When the dollar strengthens, users of foreign currencies are able to buy less gold. That effectively lowers demand because less people can afford it, thus lowering the gold price. When the dollar weakens, gold prices increase because more people can buy it and demand is higher.
Gold prices also move based on the Federal Reserve, whose interest rate policies have a big influence on the dollar. When the Fed leans toward raising interest rates, it's considered hawkish. When it leans toward lowering them or keeping them unchanged, it's considered dovish.
A hawkish Fed that wants higher interest rates generally increases the dollar's value. That's because higher interest rates often attract foreign investment, which increases demand for the dollar. Since gold is priced in dollars in most parts of the world, it becomes more expensive to those who don't use the dollar.
However, gold prices and the dollar don't always move inversely. As we saw with the gold price rally during the high-interest-rate 1970s, gold has been known to overcome a strong dollar over the long term.
FAQ No. 2: Is Now a Good Time to Buy Gold Even with High Gold Prices?
Yes, now is the perfect time to invest in gold. Even though the price of gold is at a new high of $1,202 an ounce, Money Morning expects it to reach as high as $5,246 by 2019. That means you could get in on gains of more than 336%.
The simplest way to invest in gold is to buy physical gold, such as bullion coins and gold bars. According to Money Morning Global Credit Strategist Michael Lewitt – a hedge fund manager with over 30 years of experience – it's best to purchase American Gold Eagle coins from a reputable dealer if you want to own physical gold.
If you don't want the hassle of storing and maintaining gold, you can invest in gold exchange-traded funds (ETFs). Many gold ETFs allow people to directly invest in physical gold that the fund manager stores in a secure location. The most popular fund is SPDR Gold Trust ETF (NYSE Arca: GLD), which stores gold bars in London. The $31 billion gold ETF is up 4.3% year to date.
FAQ No. 3: Are Gold Prices Going Up in 2017?
Krauth says that gold prices will reach $1,400 by the end of 2017. And if history is any indication, gold prices can soar to $5,246 through 2019.
Here are our in-depth gold price predictions for the short term and long term…