Gold Prices
Why Gold Prices Will Surge in 2018
Gold prices jumped 13.25% higher in 2017, and that's just the beginning for this gold bull market. The price of gold is heading even higher in 2018…
Gold closed out 2017 at $1,303.50, which was a 13.25% gain on the year, and gold prices are already up 1% so far in 2018.
But this is only the beginning of a gold bull market.
Video
How to Tell If Your Gold Is Real
Since 1970, every gold bull market has delivered investors with exceptional returns. The median return in these markets over the last four-and-a-half decades is 451.4%, and the median duration of the bull run is 41 months.
In fact, we'll show you four catalysts that will propel 2018 gold prices even higher.
Plus, we'll reveal Money Morning Resource Specialist Peter Krauth's 2018 gold price prediction that you don't want to miss…
2018 Gold Price Prediction Catalyst, No. 4: Rising Inflation
Krauth believes that inflation will help drive gold prices higher in 2018 and beyond.
Inflation in the United States has been gradually rising, and we expect it will continue to rise, driving down the value of the dollar.
Inflation is the change in the U.S. dollar's purchasing power, which is often measured by the core Consumer Price Index (CPI). This is a measure of the prices connected to a basket of products and services, excluding explosively priced items like food and energy.
Free Book: The secrets in this book helped one Money Morning reader make a $185,253 profit in just eight days. Learn how to claim your copy here…
Between 2015 and 2016, the last year we have full inflation data for, the inflation rate grew from 1.8% to 2.2%. And while November's core CPI inflation rate – the most recent month available – was 1.7%, the Fed continues to predict higher inflation, which is why it hiked interest rates again in December.
And that's helped push the value of the dollar down.
According to the U.S. Dollar Index (DXY), the dollar hit a peak of 102.95 in December 2016. Since then, the dollar has lost 10% of its value, with the DXY dropping to 92.5.
You see, as the value of the dollar falls, demand for gold rises. International gold buyers can purchase more of the metal when the dollar's value declines, so they do, boosting the gold price.
That's why gold prices have risen 13.6% since the start of 2017, just as the dollar's value began to fall.
But as inflation continues to rise, the U.S. Federal Reserve is expected to continue raising rates, which is another catalyst for the gold price in 2018…
2018 Gold Price Catalyst No. 3: Increasing Interest Rates
After the 2008 financial crisis, the Fed slashed interest rates to its lowest level ever, 0.25%. After nearly a decade of keeping rates historically low, the Fed is committed to hiking rates again, and this is going to boost gold prices in 2018 and beyond.
Now, the "conventional wisdom" holds that rate hikes hurt the gold price. But this isn't true or accurate.
Gold prices tend to fall just ahead of a potential rate hike from the Fed, but prices surge after a rate hike. This is a demonstrable trend going back 30 years. And that doesn't even factor in the 1970s and 80s, when the Fed hiked rates to astronomical levels – reaching 20% in 1980 – while gold followed to hit a then-record high of $594.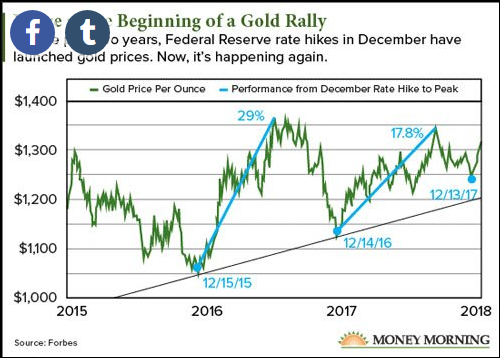 And we're seeing the same pattern of rate hikes boosting gold prices, especially since the Fed has hiked rates for the last three Decembers.
After the December rate hikes in 2015 and 2016, gold prices rallied over the course of the following year. Now that the Fed just hiked rates again on Dec. 13, we're expecting that pattern to continue in 2018.
Plus, the Fed is expecting three more rate hikes in 2018 alone. We could see interest rates rise above 2% for the first time since 2008, which will continue to fuel this gold price rally.
And gold traders are taking note…
2018 Gold Price Catalyst No. 2: Less Short Interest
One of the best indicators of where gold prices are heading is where traders are putting their money. Right now, gold traders are pulling their money out of positions that were betting gold prices would fall.
When an investor takes a short position on a stock or commodity, they are betting on a lower gold price forecast.
Don't Miss This Shot at a $78,000 Windfall: This tiny firm is about to make the entire world wire-free. As its game-changing technology revolutionizes the global power structure, its stock could hand investors a massive return. Read more…
And the short position volume on gold has dropped dramatically over the past 12 months. Just one example is NovaGold Resources Inc. (NYSE: NG), which is a Canadian gold miner. Over the past year, the short positions on NG stock are down 79%.
But it's not just one gold miner that traders are bullish on – it's the entire gold industry…
The Gold BUGS Short Index (NYSE: HUISH) is an index that tracks the shorts in gold mining companies. HUISH has dropped precipitously since the Dec. 13 rate hike. The index is already down more than 12% since the December rate hike.
That means traders are pulling their money out of short positions in anticipation that gold prices will continue to rise.
And while we've shown you the patterns boosting gold prices in 2018, it's also shaping up to be a tumultuous year…
2018 Gold Price Catalyst No. 1: Rising Geopolitical Tension
As one of the world's oldest currencies, gold is turned to in times of instability as a reliably strong asset to hedge against the ups and downs of stocks or bonds.
That's no truer than when global tensions raise uncertainty and put traders on edge.
Consider Britain's vote to leave the European Union on June 23, 2016. In just under two weeks after the Brexit vote, gold prices surged 9% higher.
And after the U.S. presidential inauguration on Jan. 20, gold prices rallied 4% over the month.
Traders flock to gold when events create uncertainty. While those gains appear mild, 2018 could be even more uncertain and unstable than the last two years…
Not only are tensions between the United States and North Korea rising, the possible ramifications are far beyond anything we've seen previously. The Atlantic just reported on Jan. 9 that the United States is considering a full-scale invasion, if necessary, to stop Kim Jong Un from attaching a nuclear warhead to an ICBM.
Venezuela, the location of the world's largest oil supply, is on the verge of collapse. As The Washington Post reported on Jan. 12, "Venezuela's economy is collapsing and violence is rampant."
Plus, a trade war is looming between the world's two largest economies in China and the United States.
Those are only a few possibilities of the destabilizing events potentially in store for 2018, and all of them will send gold prices surging.
The profits could be astounding…
Our Bullish Gold Price Prediction for 2018 and Beyond
Krauth's forecasts that gold prices could test $1,400 in the first half of 2018 and will continue to rise to as high as $1,500 to close out the year.
That's a nearly 15% gain from today's price.
But Money Morning Director of Research Matt Warder has outlined another set of possibilities for 2018. He's identified 10 events that could send gold prices skyrocketing if even a few of them happen in short succession.
According to his research and analysis, gold prices could reach $3,000 in 2018 if these events unfold. That means gold has the potential to soar more than 120% in 2018 alone.
And the long-term possibilities for gold are even more staggering…
Krauth's long-term gold price forecast shows the metal has the potential to hit an astounding $5,246 per ounce by 2020, which is more than 300% above today's price.
Krauth says we are only halfway through the current gold bull market, which means the largest gains for gold prices have yet to come.
And history is on his side…
You see, gold went through a correction and consolidation period in the 1970s before launching into one of the most bullish runs in the precious metal's history. We are witnessing similar behavior today.
The last gold bull market began in April 2001, when gold prices hit a multi-decade low close to $260 per ounce.
Between September 2001 and September 2011, gold produced a 21.46% compound annual gain while also producing a positive return every single year. Gold prices hit a peak of $1,900 before they entered a multi-year period of consolidation and correction, which is almost exactly what happened in the 1970s.
Between 1974 and 1976, gold prices dropped from $200 per ounce down to $100, which mirrors the correction we saw between 2011 and 2016, when gold prices fell from over $1,800 down to $1,100. After the 1976 correction, the price of gold skyrocketed 800% over just three-and-a-half years.
We're expecting similar possibilities for gold prices as this new bull market gets underway.
Gold Price in Q3 2018
Q3 of 2018 wasn't entirely kind to gold prices. Our gold price forecast was right about a lot, but there were a few things even we didn't see coming.
Gold is normally sensitive to geopolitical uncertainty. When the markets are uncertain, investors turn to a less-risky and more stable investment. Which, is usually gold.
Though the world is a little unstable, we're not seeing the gold price go up or more investors switching to gold investments.
Instead, the gold price remains weak. Why? It might be because the U.S. economy and stock market remain strong, even in this time of uncertain government policy.
Gold is also dependent upon the strength of the dollar, which you'll hear more about below.
So, if there's been a drop in gold value, why are we recommending you invest in it? We've got 3 reasons why you don't need to worry about the drop in gold value.
Reason 1: Gold Price Goes Up and Down
Movement in gold value is a normal aspect of the gold price. The fluctuations in gold value make gold like any other investment. You'll see day to day, or even month to month changes.
Sometimes those changes are down, other times they're up. What you should look for as an investor is a general upward trend. The gold price has that.
One important aspect about gold to note is that it's not correlated to other investments. So, if the stock market is down, gold might be down, up, or constant. There's no way to know.
Because of this lack of correlation, gold is a great way to diversify your portfolio.
Remember, just because the gold price dropped in Q3 of 2018 doesn't mean that gold value is gone. The drop in the gold price is perfectly normal and it will go back up.
Consider the drop a bonus to buy more gold at a lower price.
Reason 2: The Dollar Is Gaining Strength
Though the gold price isn't correlated with other stocks or investments, it is tied to the value of the dollar.
In general, when the dollar gains strength, gold value goes down. This is a normal effect and it's part of why we're seeing gold value drop.
In comparison to other major currencies such as the Euro and British Pound, the U.S. Dollar is gaining strength. It's becoming more valuable.
Though it's a bummer that the gold price is down, it might mean your other investments are doing well.
And, don't forget the inverse of this is usually true too. When the dollar loses value, up goes the gold price.
Reason 3: Gold Is Great Long Term
Investing in gold has been around a long time, and there's a reason for that. The gold price generally follows an upward trend. And, even when other investments are performing poorly, gold will remain valuable.
For example, during the 2008 financial crisis, there was a point in time where you couldn't sell certain bonds. No matter how low the price.
Simply no one was buying. Gold was safe. No matter the state of other markets, you can almost always find a buyer for gold. That's one of the reasons this is such a low-risk investment.
If you're interested in the gold price, you're probably also interested in silver prices. These two precious metals can make for a great investment. Check out our predictions and thoughts on silver prices before you diversify.
He's on Pace to See 3,390% Total Winning Gains Per Year
The Night Trader is unlike anyone we've ever met.
He's in the top 1% (of the top 1%)…
He only works five minutes a day…
He lives by his own rules, doing whatever he wants, whenever he wants…
And now, he's disclosing his coveted strategy for the first time ever. Pay close attention.