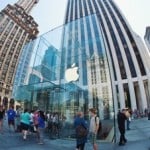 A crazy week for Apple Inc. (Nasdaq: AAPL) ahead of its much-anticipated iPhone 6 announcement next Tuesday took a 4.22% bite out of the Apple stock price yesterday (Wednesday).
But long-term AAPL investors need not worry.
For all the commotion this week about hacked iCloud accounts, new products from rival Samsung, and negative comments from several Wall Street analysts, the fundamental reasons that the Apple stock price will continue to rise have not changed.