Start the conversation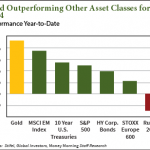 Gold investing 2014 update: Gold prices have had a strong first half in 2014. At the midpoint in July, the yellow metal had gone up 9.2% in value.
Investors in physical gold have benefited from the rise. Throughout the year, gold has consistently outperformed other major asset classes like U.S. treasuries and equities.