Gold closed out Q1 with a 16.1% gain, its biggest leap since 1986. And we see more gains ahead in 2016, which is why we asked Money Morning Resource Investing Specialist Peter Krauth about the best gold stocks to buy in 2016.
But before we get to the gold stocks he recommends, here's why gold prices are off to a historic start this year…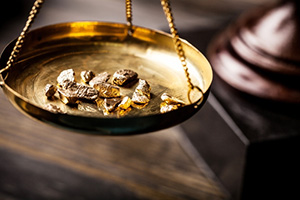 After notching its largest quarterly gain in three decades, the gold price continues to climb in April. At a recent price of $1,248.60 an ounce, the precious metal is up 18.2% year to date.
Factors that keep lifting gold prices in 2016 are worries about slowing global economic growth, the use of negative interest rates by central banks, and geopolitical risks. All of these reasons have investors pouring money into gold and gold stocks.
Holdings at SPDR Gold Trust (NYSE Arca: GLD), the world's largest gold-focused exchange-traded fund (ETF), sit at their highest level since December 2013.
And traders continue to increase their wagers on higher gold prices.
At the end of last month, net bets on higher gold prices by hedge funds and other speculative investors stood at the highest level since February 2015, according to data from the Commodity Futures Commission.
The gold mining industry turned in the best performance among all sectors in Q1, with a 50.2% quarter-over-quarter gain. The second best performer was precious metals, with a 46.1% advance.
With global policymakers signaling interest rates will stay low for longer, the price of gold in 2016 is poised for more gains. The U.S. Federal Reserve has signaled it will be slowly raising rates this year. That has led to a weaker U.S. dollar, which tends to bolster the price of gold.
Krauth says the "gold party is just getting started, and everyone is going to want to dance with these companies."
Here are the four best gold stocks for investors looking to play climbing gold prices in 2016…
The 4 Best Gold Stocks to Buy in 2016
The world's largest gold mining companies are becoming the new stock market leaders as higher gold prices are leading to huge profits.
"As the return of the gold bull looks more and more entrenched, gold producers just like this will be first in line to reap the biggest gains," Krauth said. "They've already started."
The four best gold stocks to buy in 2016 are:
Barrick Gold Corp. USA (NYSE: ABX) is a Toronto, Canada-based company engaged in the global production, exploration, and mining of gold and copper. The company is focused on reducing its debt, which is another positive catalyst. Looking ahead, execution of project developments could be key for Barrick and lead to further upside for its shares. Barrick is a top holding among several hedge funds. ABX closed out Q1 with an 84% gain. At $16.14, this gold stock is up 118.70% year to date. On April 8, Credit Suisse upgraded the stock to "Outperform" from "Neutral."
AngloGold Ashanti Ltd. (NYSE ADR: AU) operates as a gold mining and exploration company. The company also produces silver, uranium oxide, copper, and sulphuric acid. Its portfolio includes 17 mines in South Africa, Continental Africa, Australia, and the Americas. The company's strengths can be seen in multiple areas, including its solid stock price performance, impressive record of earnings per share growth, and increase in net income. Monday, RBC Capital Markets upgraded to AU to "Outperform" from "Sector Perform." The firm believes AU represents the most robust opportunity in its South African coverage, supported by a diverse, low-cost asset portfolio. At $15.59, AU is up 119.58% year to date. That makes it one of the top gold stocks to buy today.
Newmont Mining Corp. (NYSE: NEM) develops, explores for, and produces gold, silver, and copper in the United States, Australia, Peru, Indonesia, Ghana, and Suriname. The company was founded in 1916 and is headquartered in Greenwood Village, Colorado. After recent non-core asset sales, Newmont is left with high-quality assets with longer mine life. This well positions Newmont for the metals' price environment, which tends to be volatile. An Indonesian consortium is said to be mulling a $2 billion bid for Newmont's assets in the country. At $30.15, NEM shares are up 67.76% year to date.
Goldcorp Inc. (NYSE: GG) engages in the acquisition, exploration, development, and operation of precious metal properties in Canada, the United States, Mexico, and Central and South America. Founded in 1954, the company is headquartered in Vancouver, Canada. Analysts feel the company deserves a premium valuation to its peers due to its excellent balance sheet, growth profile with lower-cost new mines, longer average mine life, and a solid dividend yield. Over the last few years, Goldcorp has been altering its mine plans, cutting spending, and disposing assets in order to reduce costs and focus on the most profitable production. Merrill Lynch recently hiked its GG price target to $21 from $19. At $17.54, GG is up 51.73% year to date.
Stay informed on what's going on in the markets by following us on Twitter @moneymorning or liking us on Facebook.
What the World's Leading Energy Insiders Fear Most: There's a crisis brewing in America's oil fields that's not unlike the 2008 credit crunch. Soon, it's going to spread to the rest of the world. The fallout won't be pretty, but don't worry. You'll be prepared – and ready to play it for some gains…