Investors are looking for the best and easiest way to invest in gold in 2016, after the stellar first quarter for the precious metal.
While global stocks were volatile in Q1, gold prices soared more than 16%. During the same time, the Dow Jones Industrial Average climbed just 1.5%. That's why investing in gold has become so popular at the start of Q2.
But before we get into how to invest in gold now, here's why prices have soared and should continue higher…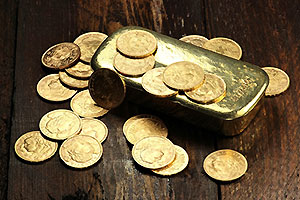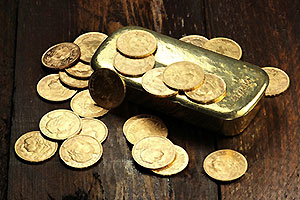 Gold prices notched their largest quarterly gain in three decades in Q1 2016. Fueling gold prices were worries about the health of global economies, the increasing use of negative interest rates, geopolitical risks, and soft corporate earnings. Those same worries should remain throughout 2016.
Gold prices climbed 16.1% in the first three months of the year. That was the biggest quarterly advance since 1986.
Traders continue to increase wagers on rising gold prices. Bets on higher gold prices by hedge funds and other speculative traders totaled 161,610 contracts in late March. That was the highest level since February 2015, according to data from the Commodity Futures Trading Commission.
And even as stocks staged a strong recovery from February lows, gold prices remain a solid outperformer. Year to date, the gold price is up 16.59%. The Dow, S&P 500, and Nasdaq, meanwhile, are up 1.41%, 0.69%, and down 2.51%, respectively.
The U.S. Federal Reserve and world central banks continue to be dominant forces behind gold prices. Central banks' every monetary policy move and stance has an impact on gold. Many central banks are in easing mode, toying with negative rates, and adding to their gold stores.
The People's Bank of China last month added 9 tons of gold to its yellow metal stockpile. Developed economies' central banks also maintain large gold holdings. Diversification by emerging market central banks, which includes buying gold, remains a bullish factor for the gold market in the years ahead.
"People are also realizing central banks have no qualms about lowering their currencies to gain a temporary advantage over their trade partners," said Money Morning Resource Investing Specialist Peter Krauth. "Faced with all this, investors are increasingly turning to gold as a means of retaining purchasing power."
Other catalysts for gold prices in 2016 include historic low interest rates in the United States, the sluggish worldwide economic backdrop, and simmering geopolitical threats.
That being said, buying physical gold can be a hassle for many retail investors. Delivery charges, storage fees, and insurance considerations simply make owning physical gold out of the question for some investors.
That's why we've recommended the easiest way to invest in gold this year as prices continue higher…
The Best and Easiest Way to Invest in Gold Now
One of the best ways to get exposure to gold prices is through exchange-traded funds (ETFs).
The SPDR Gold Trust (NYSE Arca: GLD) is one of the best gold ETFs to buy today thanks to its commanding size and presence. GLD offers investors an innovative, relatively cost-efficient, and secure way to access the yellow metal market.
Originally listed on the New York Stock Exchange in November 2004 and traded on NYSE Arca since Dec. 13, 2007, it is the largest physically backed gold ETF in the world. The gold ETF has a market cap just of $33.19 billion.
The gold ETF was launched to provide investors with a way to participate in the gold bullion market without having to take physical delivery of gold. The gold ETF also allows investors to buy and sell the metal through the trading of a security on a regulated stock exchange. GLD shares trade like stocks. The value of GLD shares relates directly to the value of the gold held by the ETF (less its expenses) and to fluctuations in the price of gold.
During the first week of March, investors poured more than $1.1 billion into GLD. That was the largest amount of money flowing into any exchange-traded product, according to FactSet data. It also reflects the uneasiness that persists among investors even as markets reversed most of this year's earlier losses.
Year to date, GLD is up 16.82%. Holdings of GLD are near their highest level since December 2013.
Stay informed on what's going on in the markets by following us on Twitter @moneymorning or liking us on Facebook.
Solar Power Will Boom in 2016: Solar outperformed the rest of the energy market in 2015, and that trend shows no sign of slowing down. In fact, there's one incredible factor that will drive solar stocks to new highs in 2016. Here's the best way to play this skyrocketing industry…
Related Articles: