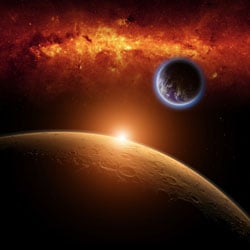 When billionaire entrepreneur Elon Musk founded his private spaceflight company SpaceX back in 2002, he had two goals in mind: to reduce the cost of space transportation, and to colonize Mars.
Mars colonization may sound farfetched, but Musk is serious.
In an April 2011 interview with The Wall Street Journal, Musk said he hopes to send humans to Mars' surface within 10 to 20 years.
Then in a July 2013 interview with The Guardian, he said he'd like to fund a colony of 80,000 people on the red planet - and become a colonist himself. "The key thing for me is to develop the technology to transport large numbers of people and cargo to Mars. That's the ultimate awesome thing."
Sign up for SMS so you never miss special events, exclusive offers, and weekly bonus trades.
And just in a Jan. 5, 2015 "Ask Me Anything" (AMA) session on Reddit, Musk told participants his Mars Colonial transporter will be unveiled by the end of this year. "The Mars transport system will be a completely new architecture. Am hoping to present that towards the end of this year. Good thing we didn't do it sooner, as we have learned a huge amount from Falcon and Dragon." (The Dragon is a spacecraft designed to deliver both cargo and, eventually, people to orbiting destinations like the International Space Station; the Falcon is a rocket that transports satellites and the Dragon spacecraft safely into orbit.)
While the Tesla Motors Inc. (Nasdaq: TSLA) founder wants to go to Mars because he loves tech and it'd be an "awesome" feat, that's not the No. 1 driving force behind his work...
You see, Musk believes colonizing Mars is the best way to prevent the extinction of humankind.
In the same 2013 interview, he stated, "There's no rush in the sense that humanity's doom is imminent; I don't think the end is nigh. But I do think we face some small risk of calamitous events. It's sort of like why you buy car or life insurance. It's not because you think you'll die tomorrow, but because you might."
But Musk has never said what he considers the biggest threat to humankind - an asteroid, a pandemic, World War III, or otherwise.
A month ago, one Redditor may have pieced it together. He examined Musk interviews, investments, and other work. And in a popular post that has drawn more than 100 comments, he pinpointed what is likely the billionaire's biggest impetus for Mars colonization.
It's a threat Elon Musk believes will endanger all of humankind "sometime within the next ten years"...