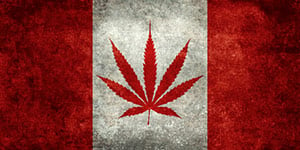 Recreational marijuana legalization in Canada was a key component of Justin Trudeau's 2015 campaign to become prime minster, and it appears he's making good on his promises for marijuana legalization and reform.
And if recreational marijuana is legalized in Canada, it will be a boon for the government and investors alike...
According to data from the Canadian Imperial Bank of Commerce, marijuana legalization in Canada could generate as much as $5 billion for federal and provincial governments. [Editor's Note: We'll have more on investing in marijuana in just a bit...]
With billions in potential tax revenue in mind, Trudeau began the effort to legalize recreational marijuana in Canada on Nov. 13, 2015.
Here's a look at the actions he has taken...
Canadian Marijuana Legalization Under Prime Minister Trudeau
Trudeau released a ministerial mandate letter (an outline of what the government needs to accomplish) to the public, an unprecedented move, according to Toronto news site thestar.com.
In the letter, Trudeau told his ministers they would need to work towards legalizing and regulating marijuana in Canada.
Then on April 20, 2016, Health Minister Jane Philpott announced Trudeau's first steps for legalization. At a United Nations General Assembly session in New York, Philpott said that legislation for legalizing marijuana in Canada would be introduced in the spring of 2017.
According to the webpage for the Liberal Party of Canada, Trudeau has three focuses for introducing recreational marijuana use to Canada: legalize, regulate, and restrict access.
Trudeau also wants to:
Ensure marijuana is kept out of the hands of children
Keep profits out of the hands of criminals
Remove marijuana consumption and incidental possession from the Criminal Code
Create stronger laws to punish those operating a motor vehicle while under the influence of marijuana
And according to a survey conducted by Nanos Research/CTV News between May 27 and June 1, the majority of Canadians are in support of Trudeau's plans for marijuana legalization in Canada...
Polls Show Overwhelming Support for Marijuana Legalization in Canada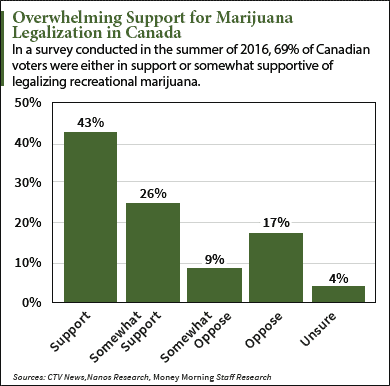 Of the 1,000 Canadians surveyed, 43% of Canadians said they were in support of recreational marijuana legalization. Another 26% were somewhat in favor of recreational marijuana use, which is a total of 69% either in support or somewhat supportive of cannabis legalization in Canada.
Only 9% were somewhat opposed, and 17% were opposed.
Must Read: Former Google Exec Quits Dream Job to Launch Marijuana Empire
The survey also found 51% of Canadian voters believe the federal government should be in charge of regulating marijuana if it's legalized. That was higher than the 34% of voters who said the provincial government should be in charge of marijuana legalization in Canada and the 16% of voters who were unsure.
Although Trudeau is pushing for recreational legalization and Canadian citizens appear supportive, he doesn't want to decriminalize marijuana immediately.
Here's why...
Canada Marijuana Laws Have Citizens Divided
Currently, marijuana is only legal in Canada if it's used for medical purposes.
Marijuana can be used to treat conditions for:
Cancer
Multiple Sclerosis
Spinal cord injuries
Hepatitis
Arthritis
Anxiety
Stress
Depression
But police departments and prosecution services in all Canadian jurisdictions have the authority to pursue criminal charges against those in possession of marijuana without a medical prescription.
And Trudeau isn't going to decriminalize marijuana possession for one key reason...
According to CTV News, Trudeau said he opposed giving a legal stream of income to criminal organizations.
Canadian citizens are split on the current laws. According to the survey, 40% believe the police should continue to enforce current laws until they change, while 39% either somewhat disagree or disagree.
While decriminalization may not happen now, it's still only a matter of time before Canadian marijuana laws are changed forever...
Money Morning Director of Tech & Venture Capital Research Michael A. Robinson told me on Nov. 15 that there is too much conjecture right now on the timing of when recreational marijuana use would be legalized in Canada.
However, he also told me he thinks a vote for recreational marijuana use in Canada will pass...
Robinson says the industry has a lot of momentum because of recent legalization in large U.S. states like California.
And that's great news for investors...
That's because with more states in the U.S. legalizing recreational marijuana use and the upcoming Canadian legalization initiative, you can start to plot your course to a seven-figure weed windfall with the top pot stocks from every ecosystem - growers, edibles, dispensaries, and more...
The Initiative to Legalize Marijuana Is Growing Rapidly...
As a service to Money Morning readers, we're now making available a 90-page cannabis investing guide called "The Roadmap to Marijuana Millions."
This "bible of weed investing" reveals the world's top marijuana stocks every serious investor should consider right now.
Normally valued at $499, it can be yours absolutely free. To learn how to get your free copy, click here.
This offer is only available to the first 500 people who respond today. So please go here now to reserve your copy.
Follow Money Morning on Facebook and Twitter.