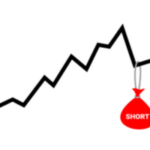 The market-reversing "Magic Hand" appeared again Monday, just when it looked as though all was lost. Is this the bottom?
One thing is certain: There is a crucial support area from 2,590 to 2,630 on the S&P 500. On Monday it was stretched beyond the limit, when suddenly, out of nowhere came the Magic Hand.
In this instance, the bulls can thank the shorts again, because with liquidity tight and getting tighter, there's not enough intrinsic demand for stocks to mount a massive, lasting rally. But in a market that has become thin because prices have crossed the same range over and over, short covering can drive a fast rally – but only until the short covering exhausts itself. And those times are getting shorter.
Nevertheless, when the earth is in its final hours, with the core about to explode and obliterate the last remaining vestiges of life, there is one thing that you can count on.
The shorts will cover.
I remember the old saw of the ancient, white-haired, wise-men traders I sat with in customers' galleries at Walston & Company back in the late 1960s and early 1970s, when bear markets were the rule: "He who sells what isn't his'n, must buy it back or go to prison."
And short sellers have hair triggers. Once they see that support isn't breaking down, they pile in all at once to cover their positions. That also tends to pull in a few long-side buyers who have cash. They're in short supply now, however.
Ultimately, each of these short-covering rallies weakens the market because they deplete the demand that is coming from short covering. So, what about short interest today? Will it continue to drive rallies every time support is threatened?