Just this morning Newsweek released a major cover story about Republican presidential candidate Donald Trump. The article's author, Kurt Eichenwald, suggested on Twitter yesterday that his piece "could change the dialogue about this election season."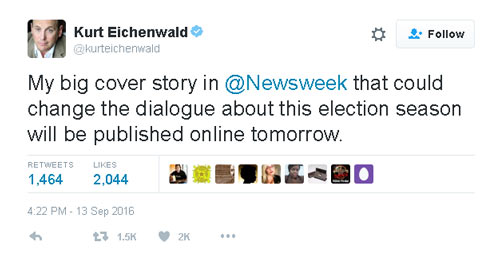 Indeed, after its morning issuance, Newsweek's feature started garnering a lot of online discourse…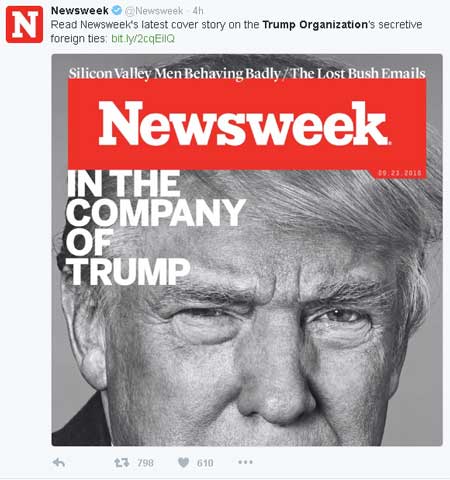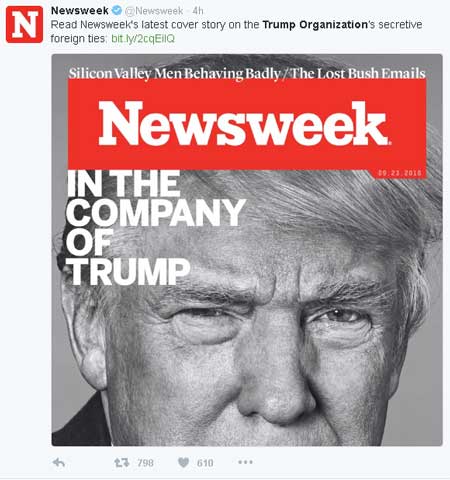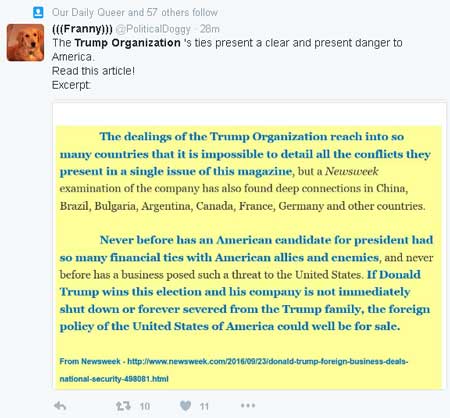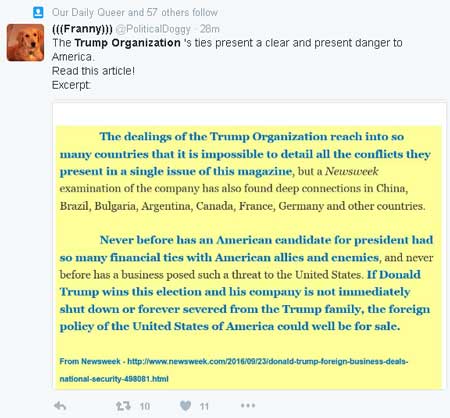 Specifically, Eichenwald's article is a close examination of the Trump Organization – the principal holding company for Trump's myriad business ventures – and its many ties to global financiers, foreign politicians, and even criminals.
Don't Miss: Mark Cuban: U.S. Markets Will Tank If Trump Is Elected
Ties, the exposé suggests, that could put U.S. national security at risk because they wouldn't be easy to resolve should the real estate magnate become president of the United States this November.
Here's a brief look at a few of those questionable Trump Organization connections outlined in Newsweek today…
3 Dubious Trump Organization Ties
The Trump Organization's "Illicit Indian Connection": Scandal erupted last month over the development, called Trump Towers Pune (in India), after the state government and local police there started looking into inconsistencies in the land records. They found that the property on which the building was being constructed may not have been legally obtained by Trump's Indian developer called Panchshil Realty. "The Indian company says no rules or laws were broken, but if government officials conclude otherwise, the project's future will be in jeopardy," reports Newsweek, which would "create a problem that Indian politicians eager to please an American president might have to resolve."
The Trump Organization's "Middle East Branding Wars": According to Newsweek's report, "Trump already has financial conflicts in much of the Islamic world, a problem made worse by his anti-Muslim rhetoric and his impulsive decisions during this campaign." Right now, one of the billionaire businessman's most troublesome entanglements is in Turkey. In 2008, the Trump Organization struck a branding deal with the Dogan Group, named for its owners, one of the most politically influential families in Turkey. Trump and Dogan first agreed that the Turkish company would pay a fee to put the Trump name on two towers in Istanbul.
Trending: How Small Investors Can Take on Wall Street… and Win
However, the Dogans were later caught up in allegations of criminal activity. In March, reports Newsweek, "an Istanbul court indicted Aydin Dogan, owner and head of the Dogan Group, on charges he engaged in a fuel-smuggling scheme. Dogan has proclaimed his innocence; prosecutors are seeking a prison sentence of more than 24 years."
The Trump's Organization's "Qaddafi Ties": Some of the most disturbing international dealings by the Trump Organization involved the reality star's numerous attempts to entice the late Libyan dictator Muammar el-Qaddafi…
"According to an Arab financier and a former businessman from the North African country," writes Eichenwald, "Trump made entreaties to Qaddafi and other members of his government, beginning in 2008, in which he sought deals that would bring cash to the Trump Organization from a sovereign wealth fund called the Libyan Investment Authority. The following year, Trump offered to lease his estate in Westchester County, New York, to Qaddafi."
Up Next: Donald Trump will win election 2016 in a landslide, according to survey results from this highly predictive anonymous question-and-answer application…
For more information on the Trump Organization's global dealings, follow us on Twitter and like us on Facebook.
Related Articles: