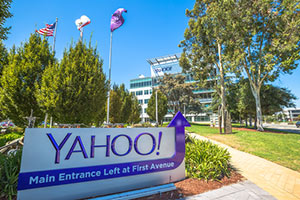 Yahoo Hack 2016: A newly discovered data breach at Yahoo! Inc. (Nasdaq: YHOO) sent the stock tanking today (Thursday) on concerns it might jeopardize its pending deal with Verizon Communications Inc. (NYSE: VZ).
The Yahoo stock price dropped nearly 5% to below $39 per share in morning trading today. Late Wednesday, the company announced it had identified a new breach separate from the massive one announced earlier this year.
More than 1 billion user accounts were affected in the latest breach, which actually occurred back in 2013. That makes the 2013 breach larger than the huge Yahoo hack of 2014, which affected roughly 500 million users and was done by a state-sponsored actor.
Company officials said it is not clear who is responsible for Yahoo hack 2013.
What Yahoo does know is that unidentified hackers broke into its network and stole data including names, email addresses, telephone numbers, dates of birth, and passwords.
Yahoo users are once again urged to review all their online accounts, change their passwords, and change security questions.
Trending Now: Get the Best Investing Research Today to Grow Your Money
Users are also advised to avoid clicking on links or downloads from suspicious emails, and to be vigilant about providing personal information from unsolicited communications.
Users are worried about what the hack means to them personally. Meanwhile, Yahoo is worried about what the breach means for its pending deal with Verizon, expected to close in early 2017.
Here's what's next for the Verizon-Yahoo deal and for the Yahoo stock price in 2017...
What Yahoo Hack 2016 Means for YHOO Stock