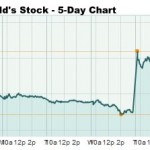 McDonald's stock rose as much as 8% in early trading today (Thursday) following solid Q3 earnings that beat Wall Street expectations.
What caught Wall Street's attention was the 4% increase in same-store sales - the first gain in this metric after nearly two years of declines..
But the question now is whether McDonald's stock is a buy.