For April 22, 2015, here's how the stock market did today, earnings reports, the top stock market news, and stocks to watch based on today's market moves…
How Did the Stock Market Do Today?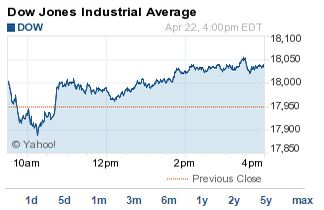 Dow: 18,038.07, +88.48, +0.49%
S&P 500: 2,107.96, +10.67, +0.51%
Nasdaq: 5,035.17, +21.07, +0.42%
The DJIA Index gained 88 points Wednesday after investors weighed earnings reports from a number of prominent companies.
Currency swings are heightening pressures on many multinational companies. But strong housing numbers and a change in China's financial policy that will allow U.S. credit card processors to operate in the massive market gave the markets a boost today.
The S&P 500 Volatility Index (VIX), the market's fear gauge, dipped 4.6% on the day.
Top Stock Market News Today
Home Sales Surge:S. existing home sales roared back to surge 6.1% in March, according to the National Association of Realtors, shattering economist expectations. This was a surprising figure given concerns about domestic supply and suggests the U.S. housing market is finally on solid ground after a near-decade boom-and-bust cycle. In addition, mortgage applications rose more than 2.3% last week, according to the Mortgage Bankers Association.
Oil Prices Today: The Energy Information Administration reported weekly inventory levels, and it was a big number. Today, U.S. oil inventories hit an 85-year high, as the nation added another 5.3 million barrels to its supply chain. The United States now has 489 million barrels in inventory. WTI crude, priced in New York City, slipped 0.8% on to hit $56.16 per barrel. Brent Crude, priced in London, rose 1% today over ongoing geopolitical tension in the Middle East.
Flash Crash: Navinder Singh Sarao, suspected of crimes connected to the May 2010 "flash crash," is out on bail and fighting extradition to the United States. Yesterday the high-frequency trader (HFT) based in London was arrested and charged with wire fraud, commodities fraud, and manipulation. This case has the potential to change the future of HFT forever.
Stocks to Watch: MCD, V, MA, KO, YUM
What Investors Must Know This Week