Just over two months ago I unceremoniously kicked McDonald's Corp. (NYSE: MCD) stock off my "Buy" list, noting that for the first time in more than 10 years, the company was no longer tapped into any of our globally "unstoppable trends." Now, with the stock down another 7% since then, the Board has just kicked CEO Don Thompson off the menu, too.
Is this move enough to put Mickey D's back on my list?
That's a great question. It's not for nothing that the stock is practically investment royalty. It's established, it's widely held, and it returned $6.4 billion to shareholders last year.
It's also a logical question because a change in senior management can be a powerful catalyst for higher returns. ABB Ltd. (NYSE: ABB), for example, took off on a 1.359% run in the five years after Jurgen Dormann took over for former CEO Joergen Centerman. Similarly, Yahoo! Inc. (Nasdaq: YHOO) has returned more than 190% since former Google Inc. (Nasdaq: GOOG, GOOGL) exec Marissa Mayer took the reins and launched a series of bold acquisitions in the summer of 2012.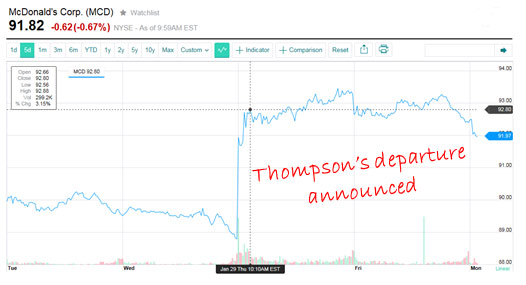 McDonald's stock jumped 5% the day Thompson hit the pavement after a 25-year career and less than two years as CEO, so investors are naturally giving the stock a second look. They're all wondering - "Is this the day McDonald's turns things around?"
My answer may surprise you.
While many investors like to think CEOs have long tenure, in fact they come and go on a regular basis. In 2014 alone, 1,341 CEOs left their companies, a figure up 7% from 2013's total, according to a report by The Street.
That's because not everything a CEO does is good. Many times new CEOs can destroy a company literally and figuratively.
RadioShack Corp. (OTCMKTS: RSHC), for example, has fallen more than 91% since it named Joseph Magnacca to the corner office. CEO Ron Johnson was fired from JC Penney Co. Inc. (NYSE: JCP) after just 17 months on the job following a disastrous reinvention of the company's brand. The stock was down by 25% in Johnson's first year at the helm.
McDonald's risks the same fate.
The numbers - never mind the personalities involved here - are terrible...
Join the conversation. Click here to jump to comments…
About the Author
Keith is a seasoned market analyst and professional trader with more than 37 years of global experience. He is one of very few experts to correctly see both the dot.bomb crisis and the ongoing financial crisis coming ahead of time - and one of even fewer to help millions of investors around the world successfully navigate them both. Forbes hailed him as a "Market Visionary." He is a regular on FOX Business News and Yahoo! Finance, and his observations have been featured in Bloomberg, The Wall Street Journal, WIRED, and MarketWatch. Keith previously led The Money Map Report, Money Map's flagship newsletter, as Chief Investment Strategist, from 20007 to 2020. Keith holds a BS in management and finance from Skidmore College and an MS in international finance (with a focus on Japanese business science) from Chaminade University. He regularly travels the world in search of investment opportunities others don't yet see or understand.