stock market crash history
Article Index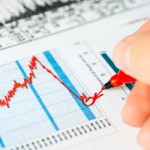 We just received the biggest stock market crash warning sign we've seen in 2016, when economist Albert Edwards shared an ominous outlook for U.S. stocks and the economy.
The Societe Generale expert says if the U.S. economy tumbles into a recession led by low manufacturing output, the U.S. market will sink a whopping 75%.
A stock market correction is defined as a 10% drop from a market's high, and a bear market is a 20% drop. So what Edwards is forecasting is a full on stock market crash...