As of March 31, Apple's cash on hand had grown to an astonishing $256.8 billion – more than a quarter of a trillion dollars.
The Apple Inc. (Nasdaq: AAPL) piggy bank continues to fatten thanks mostly to its "cash cow," the iPhone, which rakes in about two-thirds of the company's profits.
Just as impressive as how much cash Apple has is how quickly it accumulates. The Apple cash pile breached $200 billion as recently as July 2015. It was just five years ago that Apple crossed the $100 billion threshold. And a decade ago Apple's stash stood at only $15.4 billion.
The almost incomprehensible number makes for some very odd comparisons…
Apple Has More Cash on Hand Than Most Companies Are Worth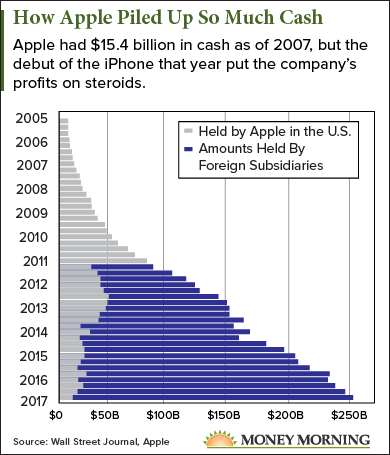 Apple's $256.8 billion in cash is the most by far of any U.S. company. Second-place Microsoft Corp. (Nasdaq: MSFT), with just $126 billion, has less than half of Apple's cash stockpile.
Apple's cash hoard is so enormous that it's bigger than the market capitalizations of most companies. Only 10 companies in the Standard & Poor's 500 have valuations greater than Apple's cash hoard.
That puts Apple's cash on hand just ahead of the $253.9 billion market cap of General Electric Co. (NYSE: GE) and just behind the $277.2 billion market cap of Wells Fargo & Co. (NYSE: WFC).
If Apple's cash were a country, it would rank 41st, ahead of the gross domestic products of such nations as Venezuela, Pakistan, and Chile.
But all this begs the question: Why does Apple have so much cash, anyway? Why isn't the company spending it on something?
The main reason Apple has so much cash is that most of it consists of profits earned overseas. Apple CEO Tim Cook thinks the U.S. corporate tax rate of 35% is too high, so he's refused to bring the money home. And it keeps piling up.
Don't Miss: The Secret That Can Turn $2,500 into $1 Million or More
About 93%, or $239 billion, of the Apple cash pile consists of stranded profits earned in foreign countries.
But President Donald Trump vowed to reduce the U.S. corporate tax rate during his campaign. And last week his comprehensive tax reform proposal included a call to chop the corporate tax rate to 15%.
If that tax cut (or something close to it) becomes law, the giant Apple cash pile may shrink in a hurry. Apple could then use the money to beef up R&D spending, make a large acquisition or two, and return cash to shareholders in the form of dividends and share buybacks.
That's how most companies use spare cash. But to get a better idea of just how mind-blowingly huge the Apple cash hoard is, here's what the company could do with $256.8 billion…
How Much Cash Does Apple Have? Let's Count the Ways to Spend It