Apple stock
Your Apple Stock Investing Guide
The Apple Inc. (Nasdaq: AAPL) stock price has been volatile in 2016, with a 52-week range of $89.47 to $123.82. You see, the stock dropped in the spring when quarterly earnings were perceived to be weak by Wall Street.
But Money Morning believes that Apple's quarterly earnings were not weak, but simply a tough quarter-over-quarter comparison. Apple is still a highly robust company, and we've seen that play out as the stock ended up soaring over $110 per share by mid-September.
And we believe that Apple stock remains one of the best picks for the long term. Here's why.
Apple Stock: Behind a Legendary Company
Apple is one of the most legendary companies in U.S. history. Nearly everyone knows the story: started in the garage of two friends, Steve Jobs and Steve Wozniak, during the 1970s. A breakthrough idea: put computers together for consumers, rather than making them rely on putting it together themselves as a kit.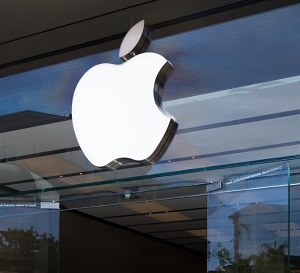 The initial public offering (IPO) of AAPL stock, in the 1980s saw Apple stock take off like a rocket. In the four and a half decades since, AAPL stock price has risen from a split-adjusted price of $0.39 at the IPO to the current price. (The actual price to investors on the Apple stock IPO date was $22.) Apple stock has made many investors rich since then.
The chapter of "brand new start-up has corporate and Wall Street success" would be enough to place Apple in the record books, but it doesn't end there.
There's the titanic struggle that founder Steve Jobs lost, when the board fired him and turned to a CEO he had brought in, in the mid-1980s.
Then, there's the return of Steve Jobs, in the late 1990s.
There's the brand new products he introduced after his return in the 1990s. The iPod, in 2001. The iPhone, in 2007. Both the iPod and the iPhone revolutionized the computer industry. The first made it clear that the capabilities of a computer didn't need to remain on a desk: these could be consumer music products in your product. The second was even more revolutionary: it changed the computer from being conceptualized as a desktop-only item.
There's also the moment Apple reached the status of world's most valuable company in 2013, unseating Big Oil's Exxon Mobile (NYSE: XOM).
And then we have the company and Apple stock today…
2016 Apple Stock Price Performance: Facing Difficult Comparisons
The history of the company is stories, but is it still a valuable company?
Yes, for many reasons. Apple stock is a momentum stock, which means it soars when the news is good can swoop low when momentum is perceived to have slowed.
Let's discuss those year-over-year comparisons first. In May, Apple stock dropped to $90, a two-year low, due to quarterly earnings results that indicated sales of its flagship iPhone products were falling.
Apple fell under $500 billion in market cap, far below its 2015 level of $750 billion. Not only that, but Apple wasn't the market cap leader anymore. That honor went to Alphabet Inc. (Nasdaq: GOOGL).
iPhone sales were lower compared to the company's quarterly record, but sales remained strong at 51.2 million. The previous year had been, in the words of Money Morning Director of Technology & Venture Capital Michael A. Robinson, a "blockbuster."
It's tough to beat a record.
So Robinson believes that the 51.2 million figure is still impressive. It was an advance of 17% over the year-prior period, to put it in perspective. Just less of an advance than it had been. Moreover, Money Morning Chief Investment Strategist points out that AAPL enjoyed $50.6 billion in revenue in the quarter and its reported gross margins of 39.4%. It had $11.6 billion in operating cash flow in the period. Not only that, but it is placing another $50 billion in its capital return program.
Further, iPhone sales are still up 17% year over year; people are simply griping about the fact that they aren't climbing as fast as they were 12 months ago.
The Apple stock price reflects a concern that the market for iPhones may have peaked, especially against its competitor, Android. Robinson believes "we're nowhere near 'peak' iPhone. I think we're still looking ahead to days when Apple's 2015 bumper crop of nearly 62 million iPhone 6 models sold seems low by comparison."
Part of the reason is global sales. Robinson points out that the middle class in China is forecast to quadruped over the next four years, to 450 million. The upper middle class is forecast to reach 100 million. That translates into much more disposable income in a huge population base. That's good news for Apple stock.
Chinese consumers are not impressed by the relatively less expensive Android phones. In fact, as Robinson points out, a major change is happening in China. There's a move to replace lower-priced Android devices with more expensive Apple and iOS products. From September to March, over the same period a year ago, a 40% increase in these upgrades was noted.
Not only that, but India has over 1 billion consumers. Apple is going to join a Chinese partner, Foxconn, to develop several iPhone-assembly plants in India.
Money Morning Chief Investment Strategist Keith Fitz-Gerald thinks that Apple is also changing the type of company it is. It is moving toward being a services company rather than solely a builder and supplier of iPhones. Growth in services is almost 30% annually, and it's growing.
It has also changed its profile. It's far from a start-up with no dividends. In fact, Apple stock is a great yield stock and has been for some time now. The current yield for Apple stock is 2.12%, above Treasury bonds. It's also the possessor of a huge pile of cash – over $200 billion worth. It can use the cash for, among other things, hiking dividend yields going forward.
Earnings in the fiscal year are also expected to rise, to $8.85 per share for fiscal 2017 versus $8.22.
Fitz-Gerald's AAPL stock price target is $200, up a whopping 85% from current prices.
Third Quarter: Better than Expected
The second quarter was important because of its effect on the share price. However, the third quarter for Apple stock, traditionally the weakest, beat analyst expectations and gave the share price a boost. (Q3 is weak because the rollout of new products is traditionally held until the holiday season.) AAPL's earnings per share (EPS) were $1.42 on revenue of $42.4 billion versus analyst forecasts of $1.38 and $42.09 billion, respectively.
It was particularly impressive given that a decline in the top line was widely expected. The figures were, however, below the year-prior quarter results of $1.85 per share and $49.61 billion revenue.
More than 40 million iPhones were shipped in fiscal Q3, above analyst forecasts of 40.02 million.
The services sector performed very well. It was responsible for $23 billion during the last 12 months. Indeed, Apple CEO Tim Cook indicated to The Wall Street Journal that next year the services division will generate sufficient revenue and that it could be a Fortune 100 company were it independent.
Apple is estimating next quarter earnings at a range of $45.5 billion to $44.75 billion, versus StreetAccount consensus forecasts of $45.94 billion.
Potential Acquisitions in the Future
Remember that cash pile? Well, true, it can be used for dividends and share buybacks. Which are great for the Apple stock price and for investors. But it can also be used to increase Apple's reach through acquisitions. Why? Well, even though iPhone sales are robust, the market for them is getting mature.
Not only that, but Apple has many picks in emerging technology. Take streaming video. The venerable Nielson company indicates that adult watching of television is dropping (over 8% as measured in minutes since 2012). While time spent viewing television is on the decrease, there's an 111% increase in time viewing streaming media.
Apple could use its business acumen to grow a streaming media business from the ground up. However, in the past, there have been some issues in working out agreements with television networks. Another concern is that the streaming video field has a crowded team of players.
Content creation is another AAPL objective and a media business could give a helpful boost to that goal.
In March, Apple revealed that a streaming series starring Dr. Dre, called "Vital Signs" is planned.
Apple's financial resources ($233 billion) offer lots of opportunities and it seems prudent for Apple to try to use a portion of its cash to purchase an already established media enterprise. That way, they'd be in a growth field and have a platform for their content creation ambitions.
Who might the lucky company be?
One option is Time Warner Inc. (NYSE: TWX). Rumors of Apple buying Time Warner were floating early in the year and during the late Spring. In fact, Eddy Cue, Apple Senior Vice President for Internet Software and Services, is said to have discussed a deal late in 2015 to Olaf Olafsson, TWX Head of Corporate Strategy.
TWX has a list of properties attractive to investors, such as the HBO, CNN, TNT, and TBS, and the Warner Bros. film studio. Through TNT, Time Warner can televise National Basketball Association games.
Apple's strategy for streaming content would fit with Time Warner. However, TWX has a market cap of $58 billion. The size of such a deal would not be in keeping with the deals AAPL has done in the past. The huge size of the deal would be uncharacteristic for Apple but is an indication of how far the company might be willing to go to pursue its shift in strategy.
Cons? Well, a purchase of TWX might make Apple's negotiations with other networks more complicated. However, they could decide that the better opportunity lies with TWX. If proposed and completed, a TWX deal could propel Apple stock.
Another option for Apple might be one of the most beloved of American content creators. It's Walt Disney Co. (NYSE: DIS). ABC and ESPN are both Disney properties, as are a couple film studios and publishing houses. In addition, Disney's cutting-edge animation and theme park technology mean it is no stranger to the tech world, even if public perception doesn't always place it there.
Disney and Apple have also been managerially joined for a long time. Steve Jobs was on Disney's board of directors. (Pixar Animation Studios was sold to DIS in 2006 by Jobs.) Bob Iger, DIS's CEO, is currently on Apple's board of directors.
Here again, though, a purchase of DIS would be a very large purchase for AAPL, given DIS's $158 billion market cap. We consider this merger unlikely, although it does get discussed when potential Apple acquisitions are discussed.
The third potential acquisition candidate is Netflix (Nasdaq: NFLX). It is already a notable content provider and has a huge subscriber base around the globe. (In April, total subscribers hit 81 million.
Netflix's market cap, $40 billion, is not cheap either. However, it would be more doable for AAPL than either TWX or DIS.
Nicely enough, the deal would have positives for Netflix as well as Apple. The production of original content requires substantial amounts of cash. Netflix's subscriber growth has been slowing, as well, and Apple's huge customer base, 800 million, might reinvigorate it.
Netflix appears to be the most likely acquisition candidate at this point.
Although the above three acquisition candidates are the top three, there are other media enterprises that may be possibilities.
The first is Sony Corp. (NYSE ADR: SNE). The Japanese company, at $38 billion market cap, is doable in size. However, Sony is also diversified among many businesses – it is, in fact, likely too diversified to make complete sense to Apple. The chances would be better if Sony sold its entertainment division; otherwise, this deal is not likely.
Hulu is, like Netflix, a long-established streaming vehicle. It also makes original content. Hulu has a well-established streaming service and produces some original content. But Hulu is owned by NBC Universal and 21st Century Fox Inc. (Nasdaq: FOX). They are two providers that AAPL has been unsuccessful negotiating with so far, so their agreement to a sale is not likely.
Other large media companies, such as Viacom Inc. (Nasdaq: VIAB) and CBS Corp. (NYSE: CBS), are controlled by families and have complicated share structures that would make a deal unlikely.
On projected growth in earnings, cash, and potential acquisitions, Apple stock remains one of Money Morning's top picks long term.
Informed investors make rewarded investors. Sign up for customized stock picks from the greatest stock pickers in the industry.
Follow Money MorningonFacebookandTwitter.
Why has Apple Stock climbed in 2016?
Apple stock has outperformed the markets this , following an incredible run in September. That's because sales for Apple's new iPhone 7 have been promising. The company announced on Sept. 15 that the iPhone 7 Plus had sold out during its pre-order offering. The iPhone 7 in jet black was also sold out, and there is a delayed wait time for customers who want these phones. This renewed confidence for investors, as iPhone sales fell from 47.5 million in Q3 2015 to 40.4 million in Q3 2016.
Is Apple stock a good stock to buy?
Because of slowing iPhone sales, investors have been asking us if Apple stock is a good stock to buy. The answer is yes, if you're a long-term investor. While iPhone sales are still important, Apple is working on projects for long-term revenue growth when the market eventually becomes entirely saturated with smartphones. Apple is working on self-driving cars, creating original programming, and Apple also bought a virtual reality company called Metaio in May 2015. Money Morning Chief Investment Strategist Keith Fitz-Gerald has a price target of $200 for Apple stock.
Does Apple stock pay a dividend?
Yes, Apple stock pays a dividend. Apple originally paid a dividend, but stopped in 1995. As the company started to accumulate more sales and a massive amount of cash, though, it started to offer a dividend and buy back more of its own stock. Apple didn't start paying a dividend again until 2012. As of September 2016, Apple pays of $0.57 per share. That's a yield of 1.99%.