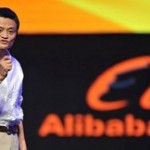 The Alibaba Group Holding Ltd. (NYSE: BABA) stock price closed at $93.89, a 38% gain from the company's offer price of $68 per share. BABA shares closed up 1.2% from their opening price of $92.70.
When BABA stock opened at $92.70, early shareholders had an immediate return of 36.3% from the offer price.
Shortly after hitting the market at 11:53 a.m., BABA stock hit a high of $99.25, a 46% jump from the $68 offer price.