Alibaba Group Holding Ltd. (NYSE: BABA) stock news has been pouring in as the historic Alibaba IPO draws closer. Tonight, company officials will announce the final Alibaba stock price, and we're looking at a range of $66 to $68 per share.
As we wait for BABA shares to hit the market, here are updates on all the Alibaba stock news stories we're following:
Alibaba (NYSE: BABA) Stock News Updates 
The Alibaba IPO Price Has Been Raised: Originally, Alibaba had set a range of $60 to $66. At the high end of the new range, Alibaba will raise roughly $21.8 billion through the IPO.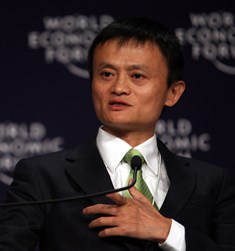 Alibaba IPO Should Be Largest Ever: Company officials said that depending on how many shares the deal's underwriters buy following the IPO, the IPO total could be much higher than that $21.8 billion total. In fact, the Alibaba IPO price could go as high as $25 billion.
Currently, the largest IPO on record is the $22 billion deal the Agricultural Bank of China Ltd. held in 2010. Visa Inc. (NYSE: V) holds the record for largest ever U.S. IPO, having raised $19.65 billion in 2008.
Alibaba Stock Will Trade on NYSE: In late June, Alibaba officials announced that its shares will trade on the New York Stock Exchange under the ticker "BABA." Both the Nasdaq and the NYSE had competed for the mega-IPO, but eventually the NYSE won out.
A Massive Valuation: By raising $25 billion, Alibaba's valuation would be $168 billion. That's already a higher valuation than some of its biggest U.S. competitors. Currently, Amazon.com Inc. (Nasdaq: AMZN) has a market cap of $150 billion, while eBay Inc. (Nasdaq: EBAY) has a value of $64 billion.
What to Expect for BABA Stock Price: "Admittedly, grabbing onto Alibaba is going to be a lot like grabbing a tiger by the tail," Fitz-Gerald explained. "But this is a trade that's worth making. The trick will be to hang on while not getting clawed."
But be prepared for a potentially wild ride. According to Fitz-Gerald, "we could see anything on that first day of trading ranging from a 5% decline to a 30% increase. The former is a possibility, but I think there's so much demand for shares that a 30% pop in price may prove conservative when the closing bell clangs Friday afternoon."
However, it's the long-term potential of the Alibaba stock price that has Money Morning experts so excited.
"I think with the Alibaba stock price, the issue isn't what it will do on Friday, I think it's what it will do over the long haul," Money Morning's Executive Editor Bill Patalon said. "I think Alibaba has the potential to become a trillion-dollar company. When the stock debuts on Friday, you're looking at a value of about $168 billion. For the stock to reach my target it's going to have to go up seven-fold. That's a huge return. You just don't find those every day."
"This is a historic stock deal. Profit opportunities like this come along once, maybe twice, in an investor's lifetime," Patalon continued.
But you don't have to wait. In fact, you can start profiting now: The best news about the looming Alibaba IPO is that it has created a major profit opportunity that most investors haven't yet noticed... It's happening now, before Alibaba stock hits the market...
In fact, this could be your one and only chance to make the kind of gains normally reserved for the high-net-worth investors and bankers. And there are three ways to play. You can learn more about this Alibaba profit opportunity here.