When Apple Inc. (AAPL) makes a big move, the hi-tech world trembles.
And make no mistake, the ground under the industry shook violently when Apple finally unveiled plans for its latest game-changer- a mixed-reality wearable computer called Apple Vision Pro.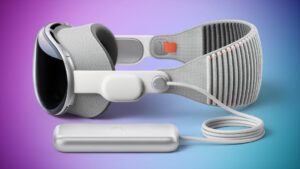 In the company's biggest product launch since the Apple Watch in 2015, the $2.8 trillion behemoth unveiled the new device, just as Apple's stock price reached an all-time high.
The product has been in the works for years, with Apple taking its usual wait-and-see approach while other tech giants dove headfirst into the still clunky augmented reality (AR) and virtual reality (VR) market.
Apple's cutting-edge technology comes at a significant price, which was to be expected, with the Vision Pro carrying a price tag of $3,499.
Still, the headset has massive implications for the market.
You see, once Apple jumps into a product, it often validates the category and obliterates the competition. This time is likely to be more of the same.
First, the Vision Pro is positioned as a "new kind of spatial computer" worn on the face. A visually striking difference from Meta's headsets is an exterior display that shows the user's eyes to the outside world.
"It's the first Apple product you look through, not at," said Apple CEO Tim Cook.
And unlike Meta Platforms Inc. (META), its main VR competitor, Apple is in the hardware business. The company's evolution of the iPhone suggests it'll figure out how to make the design appeal to the masses.
But for now, Apple has zeroed in on business applications for Vision Pro.
For example, Cook demonstrated how users can open multiple apps at once in the headset, with several high-resolution displays. He also showed how they can share and manipulate three-dimensional virtual objects during a conference call.
That fits perfectly in the corporate world, where Vision Pro's price tag won't be out of reach.
Apple also featured a series of "immersive videos", where users can navigate with just their eyes, hands, and voice (and no more clunky controllers).
Add it all up, and the headset is likely the catalyst that finally vaults the industry into the mainstream - capturing millions of everyday users in the process.
The opportunity for investors is truly mind-blowing.
The metaverse is forecasted to create an $800 billion market within a year - and an incredible $5 trillion by 2030.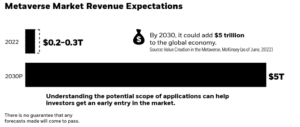 Source: Visual Capitalist
One respected leader in the tech community recently predicted, "The metaverse is going to be a new economy that is larger than our current economy."
But while Apple shares have had a historic run higher over the years, there are better ways to cash in on the meteoric rise of VR technology.
In fact, three companies will serve as the "picks and shovels" of the coming wave... making the tools tech companies need to create their own VR products.
These firms are sure to become financial juggernauts as AR/VR lands in living rooms around the planet.
As an investor, you still have a chance to get in on the ground floor. But this opportunity won't be open for long now that Apple has made its move.
Here's what you need to know...
The Ultimate 3D Platform for the Metaverse
One company stands to get an immediate boost from Apple's new Vision Pro. Plus, it's the hands-down best bet to keep raking in profits from the burgeoning metaverse for the long term too.
In fact, Unity Software Inc. (U) even got a shout-out at Apple's presser announcing the news. Turns out, Apple took the occasion to announce Unity's gaming software will be central to the inner workings of the Vision Pro.
"Today we are excited to share that we've been working with Unity to bring its apps to Vision Pro," said Apple CEO Tim Cook.
The news sent Unity's stock soaring nearly 20% on June 5, after the announcement during Apple's Worldwide Developers Conference.
But that's just the beginning.
Fact is, there's nothing but blue skies ahead for Unity because it's the clear winner in the race to develop apps for the AR/VR market.
Apple needs app developers to get behind the Vision Pro to make the product soar. And Unity's platform is the perfect fit for the community of developers who have been building 3D apps.
You see, Unity's namesake game development platform already powers more than half of the world's mobile, PC, and console games. Many of the most popular VR games - including Meta's Beat Saber and Population: One - are built on its stage.
What's more, Unity estimates that about half of all 3D content today is made with its software.
So popular Unity-based games and apps will now gain full access to Vision Pro as it builds features for high-resolution renderings of facial and hand gestures.
That's why it isn't surprising Apple said it's working with Unity to create new apps for the Vision Pro.
And it's not a reach to assume Unity will garner the lion's share of any new 3D content that gets created on the metaverse.
It stands to reason that Unity will outstrip the competition because of its user-friendly product line.
You see, new content creators can use two of its products - Unity Personal and Unity Student - for free. Unity will reap the rewards when they transition to paying customers over the long haul.
And there are very good reasons the stock should skyrocket from here.
In 2022, the company posted full-year revenue of $1.39 billion, up 25% year-over-year.
Then, Unity followed that up with even stronger sales growth in the first quarter of 2023, boosting sales by a full 56% year-over-year.
As a result, the company expects to generate $250 million to $300 million in adjusted earnings for the full year - its first positive earnings as a public company.
What's more, the company expects sales to top $2.6 billion by the end of 2024, up a whopping 87% in two years with adjusted earnings of $1 billion!
If Unity's financials remain consistent, one analyst thinks the stock could very well see a 10x price appreciation by 2030.
Ark Innovation's Cathie Wood is a believer. Unity is the 15th largest holding in Ark's flagship fund, the ARK Innovation ETF (ARKK), representing 3.46% of the total portfolio.
With Gen Z gaining more and more ground, gaming with AR/VR is about to become a dominant force in the market. That puts Unity among the best tech stocks out there with massive upside potential.
A "Peek" into The Dominant AR/VR Software Platform
Right now, AR/VR is spreading like wildfire across a wide variety of industries.
In fact, hundreds of companies, including Coca-Cola Consolidated Inc. (COKE), DuPont de Nemours Inc. (DD), and American Airlines Group Inc. (AAL) are scrambling to add AR/VR technology into their operations.
And those giants are already partnering with one leading-edge firm to implement the technology across their ecosystems.
The Glimpse Group (VRAR), is the first pure-play AR/VR software company to be listed on Nasdaq.
What's more, since its IPO in 2021, the company has been gobbling up a constellation of the very best software and services companies in the AR/VR universe.
Glimpse now owns over a dozen subsidiaries focusing on education, construction, marketing, engineering, and beyond, to help with AR/VR adoption in multiple industries.
Here are three notable examples:
Sector Five Digital - creates AR/VR solutions for experiential marketing, communications, sales, entertainment, and more. Clients and partners include Motorola Solutions Inc. (MSI) and International Business Machines Inc. (IBM).
Brightline Interactive - combines technology that supports events and simulation environments for commercial customers in the entertainment industry like Marvel and NBC.
QReal - provides photorealistic, lifelike 3D models and online shopping experiences in fashion, luxury, and automotive. Customers can inspect from all angles and even virtually try-on items - featuring brands like Gucci and Louis Vuitton.
But Glimpse isn't gobbling up these companies for the sake of growth alone.
Each acquisition is focused on leveraging each subsidiary's ability to secure new partnerships. In this case, the stronger the company becomes through acquisitions, the stronger the whole firm becomes.
And as you can see, Glimpse's strategy and groundbreaking technology have attracted a who's-who roster of clients: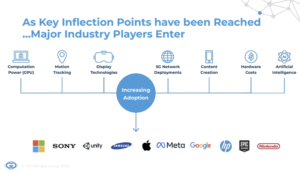 Still, Glimpse isn't looking to directly compete with the giants of the computing world. Instead, it can partner with them and offer entrance to smaller markets that would be otherwise difficult for bigger companies.
Meanwhile, the company's revenue growth is skyrocketing - up 79% in the latest quarter, clocking in at a compound annual growth rate of 94%
With its winning strategy and rock-solid financing in place, Glimpse is ideally positioned to lead the way in a growing industry.
Simply put, Glimpse has the right platform to take an enormous bite of a very large pie - an AR/VR technology market that's on the verge of exploding.
Putting the Visual in Virtual Reality
As the market for AR/VR products explodes, the need for the semiconductor chips that underlie the visual technology is set to go through the roof.
And Himax Technologies Inc. (HIMX) is at the forefront of manufacturing the integrated circuits (ICs) that make it possible to display crystal-clear images.
Back in 2013, Himax pioneered AR/VR display technology when it supplied the chips for Alphabet Inc.'s (GOOGL) Google Glass product. During that rollout, Alphabet bought (and still owns) a 6.3% stake in HIMX.
Today, Himax is the dominant semiconductor company producing visual imaging technology. Its chips power the displays of millions of everyday devices like smartphones, 4K and 8K televisions, and automotive heads-up displays.
Altogether its expertise has racked up more than 2,900 patents and 385 patents pending worldwide. Maybe that's because more than 90% of its 2,200 employees are engineers.
The company has a massive presence in the automotive market with state-of-the-art heads-up displays for the cabin as well as sensors for monitoring and regulating onboard computers and autonomous driving systems.
Besides Google, the company collaborates constantly with giants like Microsoft Inc. (MSFT), Hyundai Motor Company (HYMTF), Panasonic Holdings Corporation (PCRFY), and Bayerische Motoren Werke Aktiengesellschaft (BMW.DE) on various immersive, touchless, and 3D-related applications.
It's all made possible by Himax's innovative liquid crystal on silicon (LCoS) chips. LCoS chips are critical to producing the ultra-high definition displays now dominating the computer and automotive markets.
In fact, it's one of the only companies capable of high-volume production runs of LCoS chips for the launch of mass-market devices.
Himax's cutting-edge LCoS chips have another important advantage in the AR/VR market - its advanced 3D sensing devices.
An increasing number of 3D applications are adopting its 3D Sensing technologies for human interface sensing, such as gesture control and eye tracking.
Virtually all of Himax's 3D processors offer industry-leading fast response rates, making its processors a perfect fit for spatial reality applications.
Its front-lit LCoS is already one of the mainstream technologies for AR/VR goggle devices.
Currently, more than 10 hedge funds are heavily invested in Himax, and analysts expect the company shares to vault higher by 37% this year.
But that's just for starters...
As the world starts to coalesce around the common themes of virtual and immersive experiences, Himax is in the catbird seat - ready to dominate the AR/VR chip market with an entire ecosystem of products.
There you have it. I think these three companies are best positioned to benefit from Apple's monumental move into the AR/VR space.
Over the coming weeks, we'll cover how this situation develops and do full analyses of these companies - and give you even more ways to play this exciting new frontier.
We'll speak to you again soon,
Alex Kagin
Director of Technology Investing Research, Money Morning
Here Are 10 "One-Click" Ways to Earn 10% or Better on Your Money Every Quarter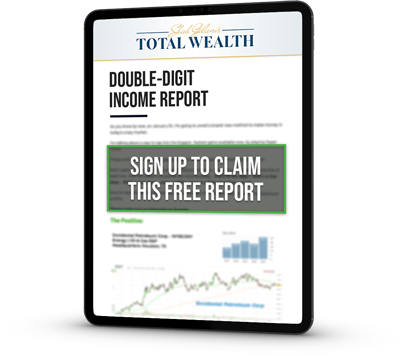 Appreciation is great, but it's possible to get even more out of the shares you own. A lot more: you can easily beat inflation and collect regular income to spare. There are no complicated trades to put on, no high-level options clearances necessary. In fact, you can do this with a couple of mouse clicks – passive income redefined. Click here for the report…