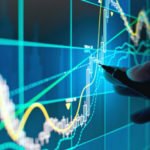 The market seems to make less and less sense everyday.
Stocks have rallied by 25% over the last three weeks despite unemployment claims smashing through historic records each week.
It's an unprecedented rally for the economic numbers we're seeing.
It's hard to know whether to sit on the sidelines, waiting for than next leg down or jump in as the market makes a sharp recovery.
It could go either way.
But what if you could profit from either of these scenarios with one trade?
It's not as crazy as it sounds.