Most investors know that options can magnify gains, turning a good stock pick into a triple-digit return in a matter of days. The problem many people face is how to get started.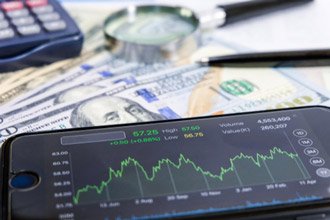 Fortunately, it's a lot easier than you think. Options are bought and sold just like stocks, and you can now trade them through a commission-free broker like Robinhood or WeBull. Once you're set up, trading is simple: buy low and sell high.
The advantage over stock trading is that you put up less money to start, and your percentage gains can be absolutely huge compared to just buying the stock. All you need to know is what stock to follow and which option to buy. And we can show you how.
Our best options trade today capitalizes on the pent-up demand about to be unleashed as the economy reopens.
People are going to want to get back to normal. All of the things they wanted to buy will be bought. All the places they wanted to go will be visited. And all the projects they wanted to get done will, as you guessed it, will get done.
So how do we, as investors, take advantage of all of this pent-up spending?
Money Morning Quantitative Specialist Chris Johnson has been tracking all of these "post lockdown" trends and flagged home improvement as one with top potential this summer. As people can move around more freely and the weather gets nicer, there is no better time to tackle all the home improvements they've been thinking about since they've been cooped up inside.
In fact, this is a trend Chris has already helped Money Morning readers bag 250% gains on.
In early May, Chris recommended a call option on Lowe's Cos. Inc. (NYSE: LOW). Lowe's stock is up 20% since Chris made his recommendation, but options traders could have bought the $110 call options expiring on July 17 for $5.81 a contract. Today it's worth $20.70, a 255% gain.
Today, Chris has uncovered another way to tap into this explosive trend.
The best option trade on Robinhood today goes beyond the home improvement market to tap into their suppliers.
Here's exactly how to make this options trade...
The Robinhood Options Trade to Make Today
[mmpazkzone name="in-story" network="9794" site="307044" id="137008" type="4"]
Since Americans are likely to be spending their summer months in the safety of their own homes, even after stay-at-home orders are officially lifted, we're expecting a large number of homes to be sporting new outdoor entertainment areas, a huge source of business for today's stock to trade.
That's very good for Trex Co. Inc. (NYSE: TREX). They make composite decking materials that are increasingly popular against traditional wood. Plus, they are sold through both professional contractors and home improvement stores like Lowe's. Whether consumers hire a professional or do it themselves, Trex is the go-to supplier.
The company's last earnings report blew away Wall Street estimates the demand for shares skyrocketed. That confirms this trend is real, but it's just getting started.
The technicals also line up to Chris' liking with a long rising trend and strong volume, even three months past the panicky market bottom in March. He does point out that the run-up has attracted some short sellers so he thinks the stock might take a little while to get moving.
But when it does, he thinks it will run until August to a price above $150 per share.
You could just by the stock at Chris' recommended price of $120 or less and expect to make 25% on your money by the end of the summer. Or, you can really kick up you profits with an option trade.
Chris recommends the Nov. 20, 2020 $130 call with a limit, or maximum price of $14. That would be $1,400 for on contract for 100 shares of stock. If TREX stock hits Chris' target in August, then it could be a 150% gain or more.
Compare the cost to trade 100 shares of the stock - $1,400 vs. $12,000! With the option, you risk much less money, yet your percentage return can be much greater.
Of course, this is just one of many opportunities out there. You can have expert options trades delivered right to your inbox each week. In fact, Chris has an exclusive invitation for Money Morning readers.
Learn how you could capture 52% gains, 78% gains, and even 108% gains in a matter of days, right here.