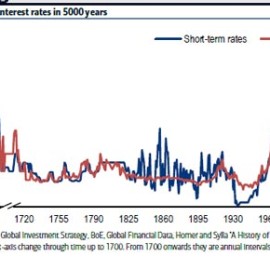 The global economy is about to be dealt one "double whammy" of a knockout blow.
It's because of two different emerging trends that are fast approaching collision: financial repression and the uncontrolled expansion of the financial sector.
Financial repression has vastly contributed to the pain the middle class is feeling now. Historically low, even negative, interest rates have eaten into returns and helped decimate pension funds and punish everyone from savers to bondholders.
At the same time, massive banks have been allowed to grow in size and power, totally unchecked. And they've used this growth period to inject huge, totally unsustainable amounts of leverage into the system via trillions of dollars in derivatives contracts and bad loans.
Either of these would be bad enough, but I want to show you how these trends are converging to unleash a firestorm of capital destruction on the unwitting. That's something we're just beginning to see in Europe right now, but it sure won't stop "over there."
The way to avoid it? Don't be unwitting. Take a look at this easy-to-trade profit play I'm recommending right now.