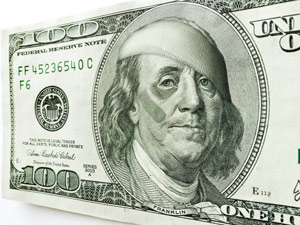 When HealthCare.gov opened on Oct. 1, 2013, the site was so crippled by technical glitches that critics questioned whether people would be able to sign up for coverage at all.
Skeptics are now concerned about a far more insidious problem with the website three years later...
On Monday, CNBC reported on a study conducted by the nonpartisan Government Accountability Office (GAO). The agency found that it was astoundingly easy to commit Obamacare fraud.
All the GAO had to do was create 12 fake identities to obtain healthcare subsidies through the HealthCare.gov website this year. The site did direct 11 of these 12 applicants to submit extra documentation to prove their eligibility - a good security measure. But still in some cases, the GAO's fake identities obtained subsidies without proper proof of immigration or citizenship status, reported CNBC.
Don't Miss: Why the Cost of Obamacare Plans Will Continue to Skyrocket...
Several congressional Republicans were furious about the study's findings, including Senate Finance Committee Chairman Orrin Hatch (R-UT).
"As if Obamacare's recent headlines were not damning enough, we find out today [Monday] that the Obama administration continues to fail the test when it comes to enrollment verification," Hatch said in a statement, according to The Hill yesterday. "Continuing to leave taxpayers vulnerable, years after the system was implemented, is a disgraceful way for the administration to leave our healthcare system."
You see, this isn't the first time Hatch has raised the alarm about Affordable Care Act (ACA) fraud.
In fact, last July, the GAO released a similar report to the one made public on Monday. At the time, Hatch told IRS Commissioner John Koskinen that more than 700,000 Obamacare customers claimed tax credits for buying healthcare but didn't bother to file their taxes in 2014. Hatch stated that this cost the U.S. government about $2 billion in bogus payments.
And just before GAO's 2015 study was released, the U.S. Department of Health and Human Services (HHS) found that $2.8 billion worth of Obamacare subsidies and payments had been made in 2014 without verification.
So these latest findings fail to surprise. Time and time again, watchdogs have sounded the alarm over Obamacare vulnerabilities in the program's exchange verification and controls.
Yet President Barack Obama's administration continues to do nothing about Obamacare fraud.
Have a look at how many times the White House has been warned...
8 Times Obamacare Fraud Has Been Reported to the White House
A May 21, 2015, report by the U.S. Treasury Inspector General for Tax Administration (TIGTA) found that the IRS failed to test Obamacare processing and verification technology until a week before the filing season began. [Editor's Note: IRS Commissioner John Koskinen could soon be impeached - but it's not likely unemployment will affect him like it does the rest of us...]
A June 10, 2015, TIGTA report found the IRS failed to properly administer nearly $11 billion in Obamacare tax credits, resulting in an undisclosed number of individuals receiving subsidies for which they weren't eligible.
A June 16, 2015, report released by the HHS found that $2.8 billion worth of Obamacare subsidies and payments had been made in 2014 without verification.
A July 16, 2015, audit by GAO found that 11 of 12 fake "test" applicants received coverage for the entire 2014 coverage period despite many using fraudulent documents and others providing no documentation at all. From these 11 applicants alone, Healthcare.gov paid $30,000 in tax credits.
Don't Miss: Subzero: How Negative Interest Rates Will Finally Kill America's Free Market
An August 2015 report by HHS found that the federal exchange is failing to verify Social Security numbers, citizenship, and household income of Obamacare applicants. As a result, the exchange is unable to verify whether applicants are properly receiving tax credits.
A Sept. 1, 2015, report by TIGTA found that Obamacare exchanges are failing to provide adequate enrollment information to the IRS for proper payment and verification of tax credits.
A December 2015 report from HHS found that the Centers for Medicare & Medicaid Services relied entirely on data from health insurers to verify whether enrollees had paid their premiums and were eligible. However, this data was completely insufficient -- insurers provided payment aggregated information rather than on an enrollee-by-enrollee basis, making verification all but impossible.
A February 2016 report from the GAO revealed that undocumented migrants are successfully obtaining government-subsidized coverage by using fake or stolen identities.
Up Next
If blindly providing millions of dollars in unchecked subsidies wasn't bad enough, the Obamacare marketplace is about to do a lot more damage...
Not only is the ACA expected to raise its rates by at least 30% for FY 2017, it's also going to deprive millions of Americans of their chosen physicians and treatments.
Furthermore, the massively failing program is about gut the markets, too...
Other articles you may enjoy:
Related Articles: