With the markets again approaching all-time highs, it's easy to overlook any sign of a stock market crash.
But such signs aren't too hard to find.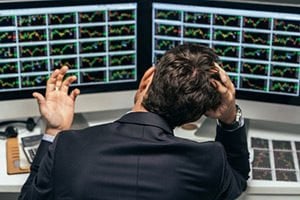 One particularly ominous indicator is the trajectory of the consumer confidence index.
The index, measured monthly by the Conference Board think tank, describes consumer attitudes and buying intentions. It's been relatively high over the past year, although it did dip in March from 131.4 to 124.1.
But what we're interested in here is not the month-to-month gyrations of this index, but what it tells us over the long term. And the "big picture" view of the consumer confidence index is clearly pointing to an economic reversal that could trigger a stock market crash.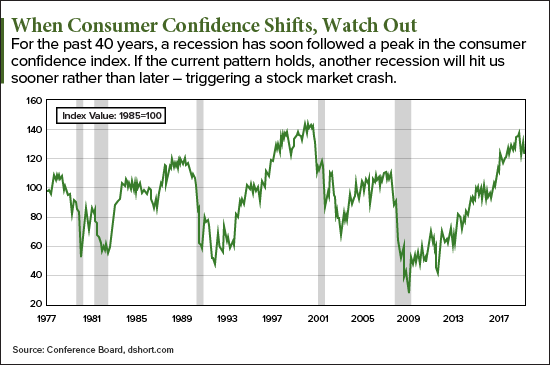 Take a look at the chart. You'll see the grey bars that indicate recessions in addition to the line charting the index. You'll also notice that the CCI has a nasty habit of rolling over right before a recession.
And on the far right – where we are now – you'll see that the line looks to be rolling over again.
Free Book: Discover 61 ways to potentially triple or quadruple your monthly income. To learn how to claim your copy of "The Book of Crazy Big Income" at no cost, click here now…
This isn't set in stone, mind you. But it bears watching over the next few months. If the downward pattern holds, we'll be right on the doorstep of a recession – and the stock market pullback that will come with it.
What the Consumer Confidence Index Really Tells Us
"Consumer confidence" is a somewhat vague term, but it provides a key insight into the direction of the U.S. economy. Although news outlets dutifully report on the index every month, they often aren't clear about what it actually means.
The Conference Board asks consumers:
About current business conditions and jobs.
About their expectations for the economy and jobs over the next six months.
If they are planning any major purchases over the next six months, such as an auto, house, or large appliance purchase.
What vacation plans they have for the next six months.
What they think interest rate, stocks, and inflation will do over the next six months.
So the CCI is a great window not just on the mood of the U.S. consumer, but on the direction of consumer spending.
And make no mistake. Consumer spending is hands down the single most important driver of the U.S. economy, representing about 70% of the nation's gross domestic product. Even small changes in consumer spending can have a significant impact.
When the CCI peaks and turns south, it foreshadows a pullback in spending – bad news for company earnings and a greased path to a bear market.
Of course, investors need to look beyond one indicator to see if any other data backs it up.
And right now, there's a growing body of evidence telling us pressure is rising on consumer spending…
Stressed Consumers Raise Odds of a Stock Market Crash