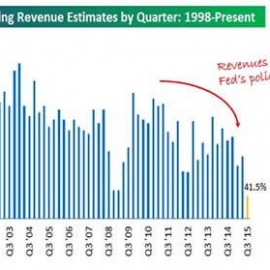 A theme so far this earnings season is U.S. companies warning of an economic slowdown. With about half of the S&P 500 companies having reported already, many are citing protracted declines in production, sales, and employment that will track into 2016.
The press is treating this as a surprise, yet I'm hard-pressed to understand how...
We've been talking about the decline in revenue and earnings for more than a year and prepared accordingly. I've shown readers how to move your money into the best quality companies and simultaneously tighten up your risk management controls - often at a profit.