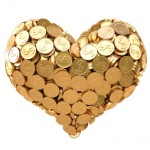 The last several months have been tough on gold prices, but gold bugs haven't lost their insatiable appetite for the yellow metal. With gold officially in a bear market, demand is surging at today's bargain prices.
Gold demand is especially strong in India, where gold is the investment of choice among consumers. India's gold imports reached 162 tons in May, almost twice the average level.
That's why last week the country - the world's biggest consumer of gold - increased the duty of gold imports for the second time in six months.
The duty was boosted from 6% to 8% on gold ore, and from 5% to 7% on intermediate products
in attempts to decelerate the accelerating gold demand. Bullion prices fell 0.25% to $1,399.36 an ounce following the move.
Gold imports are one of the biggest contributors to India's mushrooming account deficit (which occurs when imports exceed exports). An increasing deficit affects the country's foreign exchange reserves and the value of its currency.
Friday, the ruppe closed below the key 57 mark against the U.S. dollar for the first time in a year. The slide further casts a shadow on India's economy amid pricier imports and heightened inflationary risks.
Policy makers in India have been attempting to reduce its deficit and improve finances as it faces possible rating downgrades. They hope the duty increase will help.