Will the gold price continue its rally this year? That's the big question gold investors want answered as the price of gold hovers near a 15-month high of $1,270.
It can be extremely difficult to set an exact gold price target. But given the kind of investing, economic, and political environment we're dealing with today, our gold price forecast sees the metal heading higher.
And there are two positive developments in recent weeks proving gold prices will sustain their rally this year.
Before we dive into those two bullish factors, let's look at the gold price performance this past week…
How the Dollar Moved the Gold Price This Week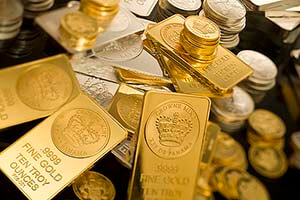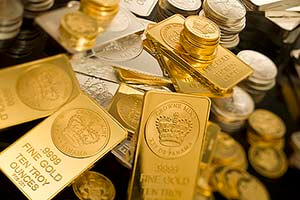 Once again, the gold price this past week was mainly influenced by the U.S. Dollar Index (DXY) as it wrestled with the 94 level.
After gaining 1.7% to $1,288 on Friday, May 6, gold prices started off the new week with a loss.
On Monday, prices tumbled 1.9% to close at $1,263. Naturally, the DXY went the other direction and worked its way higher.
The price of gold basically moved sideways during the following session. It closed at $1,264.80 for a slight loss of 0.1%. Meanwhile, the DXY followed suit by gaining just 11 basis points to 94.27.
Gold prices saw renewed strength on Wednesday, May 11, thanks to a 44-point decline in the dollar. Prices added 0.8% to settle at $1,275.50.
But the price of gold has fallen again over the last two sessions. As the DXY regained the 94 level, gold prices fell 1% on the day to close at $1,263. As of 10:05 a.m. today (Friday, May 13), the metal is down 0.4% to $1,266.40.
Despite gold's inconsistency this past week, two recent events are boosting investor interest in the metal this year. This is why we're bullish on the gold price in 2016.
And a gold price rally isn't the only reason to own gold in 2016. It's the single best investment to have to save your portfolio from a stock market crash.
That's why we're going to show you how to properly invest in gold to protect your money from the "Super Crash" lingering on the horizon right now…
Two Factors Boosting the Gold Price – and Why It's a Must-Have Investment
The first reason why gold prices will keep rising in 2016 is good old-fashioned demand.
According to the World Gold Council, gold demand in Q1 2016 surged a stunning 21% from the year-ago quarter. This increase came from rising investment demand, particularly from gold exchange-traded funds (ETFs). As a group, ETFs enjoyed inflows of 364 tonnes, which more than compensated for their sharp sell-offs in 2014 and 2015.
The second reason is bullish sentiment from notable investors.
Last week, I told you how billionaire investor Stanley Druckenmiller confirmed gold was his largest "currency allocation." He mentioned at the Sohn Investment Conference last week that investors should invest in gold and get out of the stock market now.
That aligns with Money Morning Global Credit Strategist Michael Lewitt's market prediction. He believes a "Super Crash" is about to happen that will decimate portfolios and retirement accounts.
And he's rarely wrong about these events. In fact, he called the last two bear markets back in 2001 and 2008 before Wall Street saw them coming.
"Right now, I'm seeing another bear market on the horizon," Lewitt says in his new 2016 Gold Briefing report. "Investors may be facing one of the biggest market collapses that they will see in their lifetimes."
Don't wait until it's too late. Check out Lewitt's 2016 Gold Playbook to learn the three most crucial aspects of the "Super Crash" and how gold can save your portfolio from the meltdown. You'll get the best way to own physical gold, information on three gold dealers, and how to own gold if you don't want to invest in coins or bars.
Follow Money Morning on Facebook and Twitter.
Join the conversation. Click here to jump to comments…
About the Author
Peter Krauth is the Resource Specialist for Money Map Press and has contributed some of the most popular and highly regarded investing articles on Money Morning. Peter is headquartered in resource-rich Canada, but he travels around the world to dig up the very best profit opportunity, whether it's in gold, silver, oil, coal, or even potash.