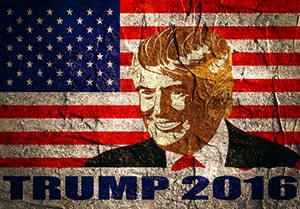 Donald Trump may be heading for the White House after all but clinching the Republican nomination. And the decision to buy gold before a Trump presidency is becoming more attractive by the day.
It's true, a Trump presidency could be very bullish for gold prices. But there are actually many reasons why Money Morning Resource Investing Specialist Peter Krauth is bullish on gold for 2016.
Before we take a look at Krauth's long-term outlook on gold prices, here's why the decision to buy gold now makes more sense ahead of a possible Trump presidency…
Donald Trump Currency War Benefits Gold Investors
In the GOP debate on Jan. 14, Trump chastised China and Japan for devaluing their currencies.
The Republican front-runner said because China devalued its currency, America has lost between 4 million and 7 million jobs.
A cheaper currency in China and Japan means it's cheaper for businesses in America to purchase international goods and send jobs overseas because of our strong dollar.
But it makes it more expensive for Chinese and Japanese businesses and consumers to purchase American products. If Trump looks to devalue the dollar, it will encourage exports for the United States and discourage importing.
And ultimately, a weaker dollar means an
investment in gold
is more attractive. Because gold is priced in U.S. dollars, when the dollar declines in value, gold becomes more affordable to foreign investors.
And that's not the only reason to buy gold if Trump becomes president…
Donald Trump's Plans Could Bankrupt America
If you fear President Trump will create an economic collapse, gold helps investors prepare for worst-case scenarios.
According to the American Action Forum (AAF), the real estate mogul's plan to deport 11 million undocumented immigrants would cause our economy to shrink by roughly 2%. AAF projects that the loss of millions of workers will cause a GDP collapse of $400 billion to $600 billion in production.
Aside from deporting undocumented immigrants, Trump's plans to build a wall could cost the United States billions of dollars if he doesn't get Mexico to pay for it.
When the Bush administration passed the Secure Fence Act of 2006, it cost $2.4 billion to secure 670 miles between the United States and Mexico, according to CNBC. The entire U.S. border with Mexico stretches roughly 2,000 miles, which means it could cost $7.2 billion for the entire project.
Whether you believe Trump will cause an economic collapse or make America great again is up to you. But in any economic downturn, gold is one of the safest investments you can make.
And aside from the worst-case scenario playing out, Trump himself is actually a big fan of gold…
Why Donald Trump Buys Gold
Money Morning recently shared a look into Trump's investments, and we discovered he has an extremely diversified portfolio.
Part of Trump's self-reported net worth of $10 billion is in physical gold. Although he doesn't provide a specific value, Trump told the FEC his physical gold holdings were worth between $100,001 and $250,000.
Even though it accounts for a smaller portion of Trump's investments, he is still a big fan of the precious metal. According to Kitco, Trump stated in 2015 that America used to be a great country because gold backed our fiat currency.
Trump also believes the U.S. Federal Reserve needs to be audited, to make sure it is holding what it claims.
Trump's gold position alone isn't a reason to buy gold. But it's encouraging to know the next potential President of the United States buys and supports gold.
So if Trump doesn't win the nomination, what does that mean for gold prices for the rest of 2016? Here's what you need to know about buying gold in 2016…
What's Next If You Buy Gold in 2016
Krauth warned investors in the beginning of May that gold prices will be volatile in 2016. So it's especially important that investors know exactly how gold will help their portfolio.
You see, gold is meant to be used as a wealth protector. The value of gold will fluctuate, but it will always help to protect your portfolio. If stocks are down and interest rates remain low, your gold holdings can help negate losses. If stocks are up and interest rates rise, gains from other investments will balance out losses on gold or flat gold prices.
And because of global economic uncertainty and the ineffectiveness of central banks, Krauth believes that demand for gold will keep climbing in 2016.
Here are some of the biggest reasons investors need to buy gold now:
Sweden, Norway, Denmark, Japan, and Switzerland are all experimenting with negative interest rates. As currency value declines, gold becomes a safer investment.
The Federal Reserve is holding off on interest rate hikes. As interest rates remain low, gold prices climb. Not raising interest rates indicates the Fed is concerned with the health of the U.S. economy. Gold serves as a wealth protector.
A United Kingdom withdrawal from the European Union would create even more economic uncertainty. A "Brexit" would be a catalyst for climbing gold prices.
Since the begging of 2016, gold prices are up 19.24%. And because we expect gold prices in 2016 to continue to rise, we created a guide for our readers on purchasing gold coins.
But if you want to learn more about owning gold stocks, we also created a list of the four best gold stocks to buy in 2016.
Jack Delaney is an associate editor for Money Morning. You can follow him on Twitter and follow Money Morning on Facebook.
Why Energy Insiders Are Afraid: In America's oil fields, there is a crisis that is brewing. Some believe that it is very similar to the 2008 credit crunch that devastated our economy. Soon, it could start spreading even farther. The fallout won't be pretty, but don't worry. You'll be prepared – and ready to make some major gains…