One of the most poorly managed banks on Earth is sitting on a "powder keg" of $60 trillion in derivatives - and when this thing explodes, it could take the global economy down with it...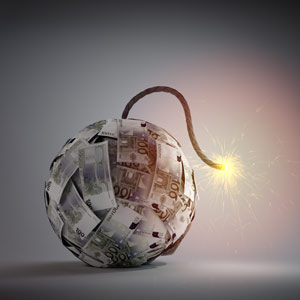 Right now we're careening toward the worst credit crisis since 2008 - and one financial institution alone represents the ticking time bomb that will set off this Super Crash.
You see, the world is suffocating under the weight of massive, unsustainable debt. And as in 2008, much of the problem stems from the unregulated, complex, speculative nightmare of over-the-counter derivatives contracts.    
The amount of outstanding notional derivatives currently sits at $192.9 trillion. That's more than twice the size of the global economy.
And while large banks all carry far more derivatives than assets, one bank stands out as the single largest purveyor of derivatives, with exposure greater than the entire European GDP.
Alarmingly, Wall Street "experts" remain bullish on this mismanaged, crumbling leviathan, advising investors to hold onto their positions in expectation of a dramatic turnaround.
But as Global Credit Strategist Michael Lewitt explains, that would be a costly mistake.
As this bank teeters on the brink of collapse, the threat to the world economy - and your money - cannot be overstated.  
That's why Lewitt prepared this special report - to help you protect yourself, and even profit, from this looming crisis.
Access this briefing now to find out the name of this bank - you'll want to exit any long positions immediately. You'll also learn:
The complete timeline of this institution's missteps, operational and regulatory deficiencies, and shady financial engineering leading up to its now unavoidable demise
Two trades you can make today to set yourself up to make a killing when this bank inevitably collapses
How to structure your portfolio to generate income and protect capital in the face of the market crash that will be triggered by this firm's downfall
This is your chance to gain immediate protection from the downside, and even profit - but the window is closing fast. Don't delay - access this exclusive report now.