Editor's Note: Since we first published this Investor's Report, Nvidia stock has already surged to well over $300 per share, topping $350 in mid May. But don't worry - you haven't missed out on future gains. We recommend putting NVDA on your watch list and scooping up shares any time it pulls back, or enter a Limit Order so you can start building your position when shares fall to a predetermined price. Accumulate shares over time, and you'll be well on your way to healthy returns over the long run.
Who They Are: Nvidia Corp. (NASDAQ: NVDA) is a chipmaker headquartered in Santa Clara, Calif.
Nvidia's graphics chips found their first big audience in the video gaming market. Yet its technology has been easily adapted to everything from artificial intelligence to virtual reality, data centers, and driverless vehicles.
Its broad reach is just one reason NVDA is our premium stock pick. It caught our attention because there's a new catalyst igniting these shares. It's a direct result of COVID-19's impact on a beloved pastime.
Why Now's the Time to Buy
Nvidia is a core tech stock to hold in your portfolio and grow your wealth for years.
Its ability to penetrate and profit from many high-growth tech subsectors has pushed NVDA stock up a jaw-dropping 1,183% over the last five years.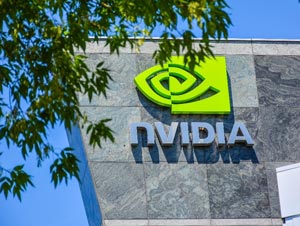 It's held up well amidst a broader market meltdown. While the Dow Jones shed 21% over the last three months, NVDA gained 14%.
Shares of Intel Corp. (NASDAQ: INTC), Nvidia's primary rival, fell roughly 6% during that time.
But NVDA has plenty more room to run. And that's not in spite of COVID-19, but because of it.
The Hottest "Sport" in the Age of COVID-19
Stay-at-home orders across the country and all over the world have cut people off from a favorite recreational activity: spectator sports.
Fans everywhere have had to rely on replays of past games, NFL mock drafts, and the like to get their fix.
But a better option has emerged. And it's ignited a billion-dollar trend that will push Nvidia stock higher.
On March 22, NASCAR televised its first "virtual" race, drawing a viewership of 903,000. That beat every live IndyCar race on NBC Sports Network last year.
It was also the highest-rated e-sports program in TV history. It was a slam-dunk hit on social media. Sponsors flooded in, and the eNASCAR iRacing Pro Invitational Series was created.
This multi-week series will feature current NASCAR pros and keep running until real racing can resume.
NASCAR's next iRace a week later drew a staggering 1.34 million viewers - nearly 1% of everyone watching TV that Sunday.
With that, the potential of an already promising market exploded even higher.
The New Billion-Dollar Market for E-Sports
"E-sports" are virtual competitions - often featuring professional players - streamed or broadcast to a viewing audience.
The value of the e-sports market is growing at a rapid clip. MarketsAndMarkets Research projects it will zoom from $926.3 million in 2018 to $2.18 billion in 2023.
The global e-sports audience is on track to reach 495 million people this year. By 2023, that number will climb to 646 million. Dramatic lifestyle changes brought on by the COVID-19 pandemic will further speed up adoption.
As e-sports grows in popularity, so will demand for more powerful gaming laptops with revved-up processing power and faster chips.
That's where Nvidia comes in.
Nvidia Stock Will Soar on Gaming, AI, and Other High-Growth Markets
In the early days of computing, graphics were rendered by a central processing unit. Think of a CPU as the "brains" of a computer.
As graphics became more important, especially in video games, the need for a separate processer arose.
Nvidia released the first commercially available graphics processing unit (GPU), the GeForce 256, in August 1999. Its success quickly led to dedicated graphics processing in PCs, laptops, smartphones, and video game consoles.
In Q4 2019, Nvidia controlled nearly 70% of the market for GPUs. It holds the top spot for higher-end GPUs as well, where profit margins are greatest.
Its components are even recommended by companies that spec out iRacing "rigs."
Nvidia's gaming revenue has risen 38% in three years, from $4 billion in fiscal 2017 to more than $5.5 billion in fiscal 2020.
New technological advancements like "ray tracing" will push revenue higher. Ray tracing elevates images in video games to a quality equal to - or even better than - movies.
Nvidia CEO Jensen Huang called ray tracing "the most important new feature of next-generation graphics." The company's pipeline of over 30 games with this technology means ray tracing's potential as a revenue generator for Nvidia is just getting started.
Gaming and e-sports are popular for more reasons than recent "lockdowns" across the country. Advances in smartphones, virtual reality, and the rollout of super-fast 5G networks will cement the popularity of gaming over the long run.
And Nvidia is expanding into other high-growth markets, like artificial intelligence and data centers. Its GPUs are also essential to current cloud computing upgrades.
In a move to bolster its AI and data center business, Nvidia received approval in mid-April to acquire Israeli chip designer Mellanox Technologies Ltd. (NASDAQ: MLNX) in a deal valued at $6.9 billion.
The deal, Nvidia's biggest to date, will allow it to better compete with Intel. Once the deal is closed, Nvidia will still have about $4 billion in cash on hand.
And if this isn't enough evidence of Nvidia's ability to survive and even thrive in current market conditions, on April 22, Huang made a surprise announcement to employees.
Not only would there be no layoffs or pay cuts, but all employees would be given raises to provide more financial security during the economic crisis.
"There is no layoff. The work we do in graphics, science, AI, and robotics is more vital to the future than ever," wrote Huang.
NVDA is trading at $293 at the time of writing. With market volatility still running high, investors should aim to pick up shares of NVDA whenever the price dips.
Twenty-five analysts rate Nvidia stock a "Buy." At the high end, it has a one-year price target of $360. That's a 23% gain from today's price.
Yet we believe even that estimate is conservative. For long-term investors, this is a core tech holding you'll want to make space for in your portfolio.