Jim Rickards fears he and his colleagues' warnings are being ignored by our political leaders and the Federal Reserve, and we're on the verge of entering the darkest economic period in our nation's history.
One that will ignite a 25-year Great Depression.
Today, we're going to examine everything he's uncovered because the bedlam could begin within the next six months.
Which is why every American should hear his warnings before it's too late.
In an exclusive interview with Jim Rickards, learn about the warning signs of the coming Great Depression and how you can protect yourself before it is too late.
STEVE MEYERS:
Nobody denies that we have a debt crisis in this country, but you're saying we can no longer grow our debt without causing our economy to aggressively slow down.
We're barely above water now.
So that's signal number one.
Signal number two is this dangerous slowdown in our velocity of money.
It's already plummeting to levels not witnessed since the Great Depression in the 1930s.
Are there any other signals the Intelligence Community is monitoring that suggest this collapse is right around the corner?
JIM RICKARDS:
There are, Steve.
There are a lot of signals out there and they're very, very troubling.
One of the ones I'm watching closely, and I know people in the Intelligence Community focus on also, because it covers so much ground, is called the Misery Index.
The Misery Index = Real Inflation Rate + Real Unemployment Rate
If you look at the Misery Index today compared to the period of stagflation in the late 1970s and early '80s that Americans remember so well...It's actually worse.This can lead to social instability...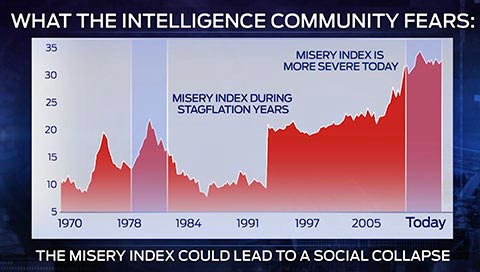 Take this back to the Great Depression... The Misery Index in the Great Depression was 27.
Today it's 32.89.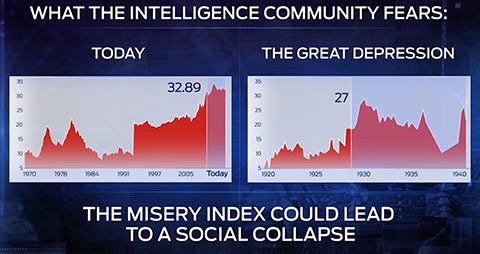 Believe it or not, it's worse today than it was during the Great Depression.
The Impact of a 25-Year Great Depression
What happens as a depression worsens?
Businesses can't pay their debts. The bad losses fall on the banks. The banks ultimately fail.
That's happened before.
The Fed has had to bail out the banks.
But what happens when the Fed, itself, is in jeopardy?
STEVE MEYERS:
Based on these signals you've been tracking, the Federal Reserve is going to fail?
JIM RICKARDS:
The Federal Reserve actually, in some ways, already has failed.
I spoke to a member of the Board of Governors of the Federal Reserve and I said, "I think the Fed is insolvent."
This Governor first resisted and said, "No, we're not."
But, I pressed her a little bit harder and she said, "Well, maybe."
And, then, I just looked at her and she said, "Well, we are, but it doesn't matter."
In other words, here's a Governor of the Federal Reserve admitting to me, privately, that the Federal Reserve is insolvent, but said, it doesn't matter, because central banks don't need capital.
Well, I'm going to suggest that central banks do need capital.
Look at this chart.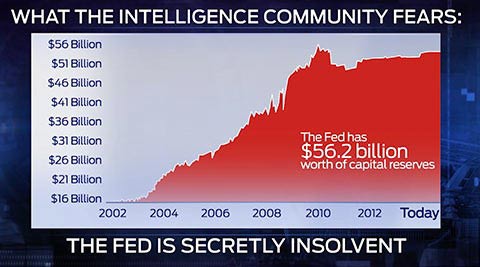 What it shows you is that the Fed has increased its capital they currently have about $56 billion.
That sounds good.
You say, "gee, $56 billion is a lot of money, that's a pretty good capital base."
But That's Not the Whole Story
You have to compare the capital to the balance sheet.
How much in the way of assets and liabilities is that amount of capital supporting.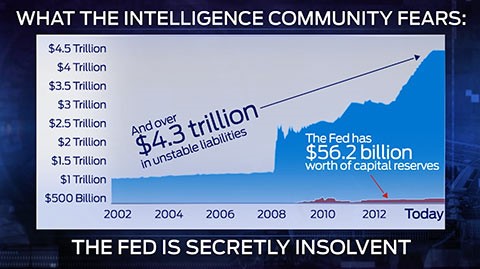 When you look at that it's a much scarier picture, because the actual liabilities, or debt, if you will, on the Fed's books is $4.3 trillion.
So you've got $4.3 trillion sitting on this little skinny capital base of $56 billion…
That's very unstable.
Prior to 2008, the Fed's leverage was about 22 to 1.
Meaning they had $22 in debt on their books for every $1 of capital.
Today, that leverage is 77 to 1.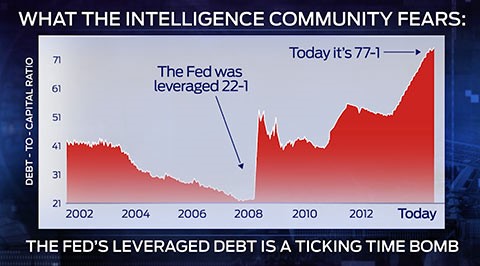 So, yes, the capital has increased, but the debt and the liability has increased much more.
There isn't much time left to protect yourself. Make sure you're prepared for the coming economic collapse with this exclusive video.