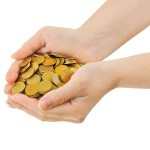 Expectations for gold prices just grew brighter due to a recent outlook on production numbers.
Gold producer Iamgold Corp. (NYSE: IMG), which has mines in Canada and Mali, forecasts gold prices will soar to a record $2,500 an ounce as global output peaks and ore grades decline.
Grade is the relationship between quality, tons, geometry and depth that indicates if a gold find can be extracted at a cost that makes doing so profitable. High grade is key in a gold deposit.
Iamgold CEO Steve Letwin told Bloomberg News in a Jan. 10 interview that the industry has exploited its best-quality gold reserves and as a result is tapping lower-grade and higher-cost deposits.
In fact, he sees this as a sign of "peak gold" - when the maximum rate of global gold extraction is reached.
"I really think we are at Peak Gold. Nobody has seen the kind of production profiles they thought they were going to see," Letwin explained.
What is Peak Gold?
After peak gold is reached, there's a terminal decline in the rate of production.
The "peak gold" theory mirrors the "peak oil" theory, which maintains the earth holds a finite amount of crude, and production will eventually outstrip supply.
The peak gold phenomenon was actually spotted several years back.
Barrick Gold (NYSE: ABX) CEO Aaron Regent told The Daily Telegraph in 2009 at the Royal Bank of Canada's annual gold conference "there is a strong case to be made that we are already at peak gold."
"Production peaked around 2000 and it has been a decline ever since, and we forecast that decline to continue. It is increasingly difficult to find ore," Regent said.
In 2001, the world saw what was believed to be record global gold production of 2,649 tons.
And what has happened since then in gold production supports the peak gold theory...