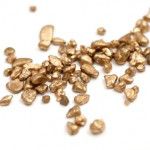 Gold prices
in 2013 are already expected to top $2,200, and adding fuel to that price surge is an accelerating trend in the global economy.
We're talking about currency wars.
The term
currency wars
describes a race between many of the world's central banks to make their currencies worth less relative to other currencies, with the goal of increasing exports by making them cheaper.
Such a strategy becomes less effective as more countries join in the battle, but a growing currency war has another effect that investors can exploit: As central banks devalue their currencies, they create inflation and cause hard assets like gold to rise against them.
Fortunately for gold investors, most of the world's central banks, from the U.S. Federal Reserve to the Bank of Japan, are expected to further step up their currency devaluation in 2013.
"Implementation of the European Central Bank's Outright Monetary Transactions, andfurther Bank of Japan easing -- both of which we expect - [will] support gold, aswould a weaker outlook for the yen, which competes with gold as a flight-to-qualityasset," wrote UBS analyst Edel Tully in a recent research note.
Why Currency Wars Will Get Worse in 2013
While the central banks' easy money policies have been aimed at stimulating their own sluggish economies, the effect has been to strengthen other world currencies, particularly those in emerging markets.
That has made their exports more expensive, hurting their economies. And they've had enough.
"Advanced countries cannot count on exporting their way out of the crisis at the expense of emerging market economies," Brazilian Finance Minister Guido Mantega said at an International Monetary Fund Meeting last week. "Brazil, for one, will take whatever measures it deems necessary to avoid the detrimental effects of these spillovers."
Mantega singled out the Fed in particular, calling its bond-buying
QE3
(quantitative easing) program "selfish."
Emerging economies are also uneasy about the recent election of Shinzo Abe as Prime Minister of Japan. Abe and his Liberal Democratic Party are expected to push for as much as $120 billion of stimulus spending plus call on the Bank of Japan to print piles of yen.
"It's almost obscene what they're talking about doing," John Mauldin, chairman of Mauldin Economics,
told The Daily Ticker
.