After a relentless rise from their December depths, gold prices now appear to be taking a break.
The gold price this week dipped to a level we last saw over a month ago.
This shouldn't surprise you. In fact, when the price of gold peaked around $1,272 two weeks ago, I told you to expect a drawback since gold's rise had been so strong for so long.
But the bull run for gold prices is far from over. And I'll discuss why the metal will head higher this year.
Before we get to that, let's take a closer look at the price of gold's wild week last week…
How Gold Prices Reached a One-Month Low This Week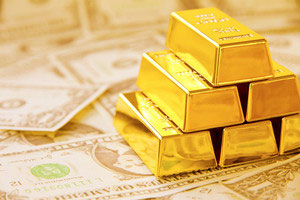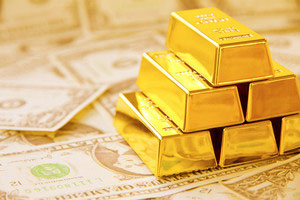 After starting the week with a 1% drop on Monday, March 21, the gold price received a small bounce early on Tuesday due to the terrorist attack in Brussels. After the attack, gold popped 1.1% to $1,257 during morning trading. But that strength was short-lived as the price of gold then fell to $1,248 by close.
On Wednesday, gold tumbled another 2.2% to $1,220 – its lowest settlement since Feb. 26. Gold prices slightly rebounded to $1,222 on Thursday and ended the short trading week with a 2.6% loss.
And there are two main drivers that explain the gold price's volatility this past week…
Two Reasons Why Gold Prices Are Pulling Back Right Now
The first is the surging U.S. dollar.
As you can see from the U.S. Dollar Index (DXY), it's gone nowhere but up for the past week.
This goes a long way in explaining the recent weakness in gold prices. When the dollar rises, it lowers the value of safe-haven currencies like silver and gold.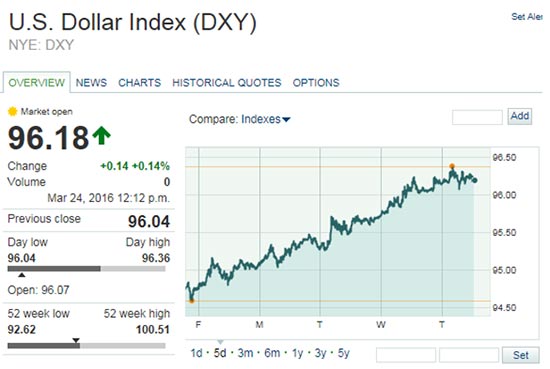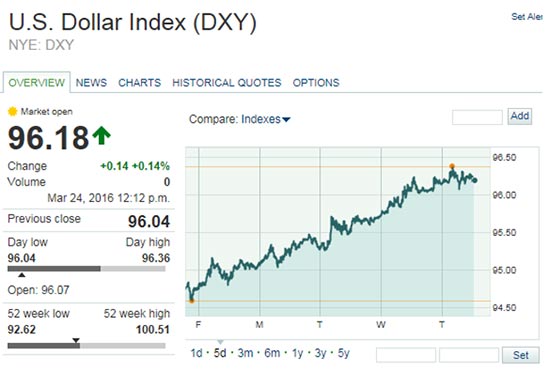 But in my view, it's not the only reason. As I've pointed out before, I've been thinking the gold price was due to rest for a few weeks already. After soaring 16% from its Dec. 17 low of $1,050.30, it was due to hit a soft patch.
On March 11, I said, "My view is gold and gold shares will likely give up some ground in the next few weeks before they return to bull mode. And that may be an attractive opportunity to take position in this sector."
And now here we are. The recent retracement of about $60 per ounce over the past two weeks is the manifestation of that.
But more importantly, what might we expect going forward?
I think we could see the dollar rise a bit more before it peters out. That would weigh a bit further on gold prices.
I'd guess the DXY could make a run for 97.50 or 98, which is close to its 50-day moving average and just below where it peaked in early March.
As a result, I could see gold bottoming around the $1,160 to $1,180 range, where it has previously met with resistance. From there, I'd expect gold to reverse and head higher again, with the next target being $1,300.
On a year-to-date basis, gold stocks, as measured by the NYSE Arca Gold Bugs Index (NYSE: HUI), have nearly quadrupled the return of gold prices themselves. Gold stocks are also likely to correct before they head higher.
I consider any substantial pullback in this sector to be a buying opportunity.
Stay tuned to Money Morning for more opportunities to profit from gold prices. Follow us on Facebook and Twitter.
The Essential Guide to Buying Gold and Silver: Precious metal investing is widely regarded as the best "crisis insurance" for your portfolio. This guide gives you everything you need to know about the best stores of value in history, gold and silver. Read more…
Join the conversation. Click here to jump to comments…
About the Author
Peter Krauth is the Resource Specialist for Money Map Press and has contributed some of the most popular and highly regarded investing articles on Money Morning. Peter is headquartered in resource-rich Canada, but he travels around the world to dig up the very best profit opportunity, whether it's in gold, silver, oil, coal, or even potash.