The price of gold is climbing more than 1% today after additional global monetary easing policies were announced. And we see the price of gold climbing much higher from here in 2016.
First, here's how gold prices have trended this week…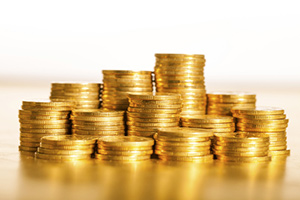 The Dow Jones Industrial Average has climbed 6.8% in the last month, calming investor fears from early 2016. That caused many investors to head back into stocks and back out of gold positions.
Investors buy gold during turbulent markets, believing it will hold its value better than other assets when markets are unstable. So when the markets climb, gold prices tend to fall.
The gold price ended Monday with a slight loss of 0.53%, or $6.70, to $1,263.20 an ounce as the Dow and S&P 500 both ended the session higher.
Tuesday, the price of gold was mostly flat. Gold prices ended Wednesday off $5.50, or 0.44%, at $1,256.60 an ounce as the U.S. bull market celebrated its seventh anniversary.
But gold prices rallied Thursday after the European Central Bank (ECB) announced additional monetary easing. The price of gold traded higher by $12.80, or 1.20%, at $1,266.70 an ounce in mid-morning trading.
The ECB cut the deposit rate to -0.4% from -0.3%. The refinancing rate was trimmed down five basis points to 0.00%. The central bank also expanded its asset purchase program from 60 billion euros monthly to 80 billion euros a month starting in April.
And that wasn't the only monetary policy that sent the price of gold higher today…
New Zealand's central bank, in a surprising move Thursday, cut its key interest rate by 0.25% to a record low of 2.25% Thursday. It was the fifth time since June 2015 that the Reserve Bank of New Zealand has cut its lending rate. Citing global growth worries and weaker demand from China, the central bank signaled it could cut rates further to help boost growth.
Investors worldwide have increasingly lost confidence in central banks. That lack of faith and negative-interest-rate policies have sent investors to safe-haven investments like gold. And that will only continue to push the price of gold higher from here…
Where the Price of Gold Is Headed in 2016
Gold prices rose 1% last week to $1,269.90 an ounce, a 13-month high. And demand for gold exchange-traded funds (ETFs) is increasing as well…
Investors put more than $1.1 billion into the SPDR Gold Trust ETF (NYSE: GLD) last week. That was the most amount of money flowing into any exchange-traded product, according to FactSet data.
Higher gold prices this year have been driven by the increasing announcement of negative interest rates at some key central banks. But the collapse in the Chinese stock market, and expectations that the U.S. Federal Reserve will raise rates at a slower than expected pace, have also boosted the price of gold.
Radical monetary policies like negative rates will at the very least put a floor under gold by debasing currencies.
Money Morning Global Credit Strategist Michael E. Lewitt explains that the current rise in the price of gold is an indicator that investors and citizens are questioning the integrity of paper money and the policies of the central bankers destroying it.
"Gold prices don't lie," Lewitt said. "And the worse market conditions get, the more investors will flee equity and run to 'safe havens' like gold and silver. The world's paper currencies are being destroyed by the deliberate policies of central banks because they have no other tools to promote growth or inflation and governments have no other way to pay back the trillions of dollars of debt they have created."
Lewitt expects gold prices to continue to rise as panic sets into markets. And this is already happening.
Year to date, the price of gold is up 19.53%. In comparison, the Dow, S&P 500, and Nasdaq are down 2.05%, 2.21%, and 6.18%, respectively.
Stay informed on what's going on in the markets by following us on Twitter @moneymorning or liking us on Facebook.
The Essential Guide to Buying Gold and Silver: Precious metal investing is widely regarded as the best "crisis insurance" for your portfolio. This guide gives you everything you need to know about the best stores of value in history, gold and silver. Read more…
Related Articles: