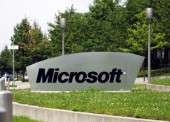 The Q2 Microsoft earnings are expected after the market close Monday.
Investors will be looking to see if Microsoft Corp. (Nasdaq: MSFT) can maintain the momentum from its Q1 earnings. In its previous earnings, the Redmond, Wash.-based tech giant beat estimates on both the top and bottom lines.
The Q2 MSFT earnings will tell us if new CEO Satya Nadella's strategies are working as intended. They'll also give us a hint of what we can expect in 2015.