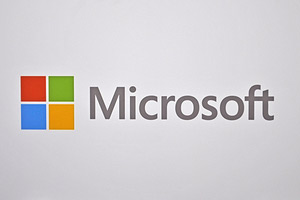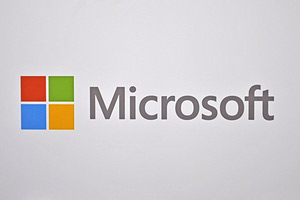 Many Microsoft stock owners aren't happy today (Monday) about the 2.5% drop in the MSFT stock price.
The reason for the sharp decline? Microsoft Corp. (Nasdaq: MSFT) announced a $26.2 billion megadeal for professional networking site LinkedIn Corp. (NYSE: LNKD).
This is better news for LNKD shareholders right now than it is for MSFT shareholders. The LNKD stock price opened last Friday at $135 per share, and today's opening price was $194.29. That's a 43% gain in just one trading day.
Of course, the sell-off of MSFT stock today means that Wall Street is missing the bigger picture once again. In fact, Money Morning Capital Wave Strategist Shah Gilani believes Microsoft stock has the potential to reach $60 per share.
Today, we will discuss the two reasons why MSFT shareholders should love Microsoft purchasing LinkedIn. But first, we wanted to make sure that all of our readers were familiar with LinkedIn and its business model.
LinkedIn was founded in December 2002 by Reid Hoffman and his team. It officially launched in May 2003 and addressed the need for a social network that appealed to business-focused individuals.
A basic subscription service for LinkedIn is free: You can create a profile, share your work history, and connect with other members. LinkedIn does offer paid subscriptions, ranging from $29.99 to $99.95 per month.
According to its Q1 2016 earnings report, LinkedIn generated 64% of its revenue from businesses paying for services to recruit employees. The rest of LinkedIn's $861 million in total revenue for Q1 was a near-even split between revenue from businesses marketing on LinkedIn and Premium LinkedIn subscriptions.
LinkedIn CEO Jeff Weiner will remain in charge of the company and report to Microsoft CEO Satya Nadella, according to TechCrunch.
While the Microsoft stock price may be down today, this is just a short-term reaction. In fact, the purchase of LinkedIn should be a welcomed surprise for long-term shareholders. Here's why...
Why Microsoft Purchased LinkedIn
According to a memo sent to Microsoft staff members, Nadella says LinkedIn will help accelerate the growth of Microsoft Office 365 and Dynamics.
Microsoft Office is known globally for its applications like Word and Excel. Microsoft Dynamics is part of growing field of customer relationship management (CRM), which refers to how businesses manage and analyze customer interactions and data.
Microsoft doesn't share exact figures on how much revenue Dynamics generates. But the company stated in its 2015 annual report that the Dynamics business grew revenue by double digits.
And even though we don't have exact revenue totals, we know the CRM market is growing at a tremendous rate.
Research site Statista projects worldwide CRM revenue in 2015 was $26.29 billion. By 2017, advisory and research firm Gartner believes CRM will be a $36.5 billion market.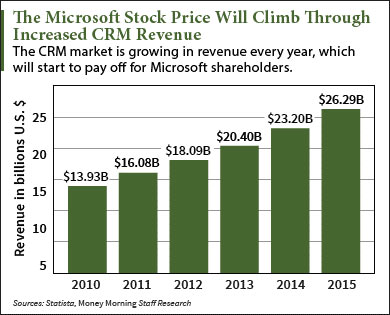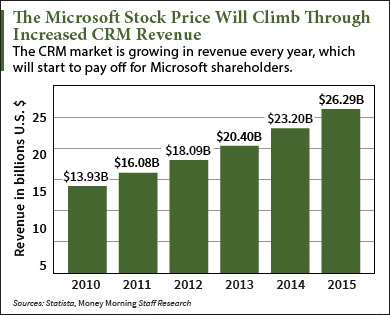 That's a 38% increase in just two years.
So while the Microsoft stock price is down today, the purchase of LinkedIn is going to reward long-term investors. These are the two biggest reasons MSFT shareholders should be happy about the LinkedIn acquisition...
The Two Reasons LinkedIn Helps the Microsoft Stock Price
The first reason that LinkedIn should boost the Microsoft stock price is the site's large audience.
LinkedIn has 433 million registered users, 105 monthly active users, and 45 billion quarterly page views, according to TechCrunch.
This creates a whole new outlet for Microsoft to sell its CRM and professional software tools.
You see, Microsoft has often been criticized for not entering the social media space. The company failed to complete a merger with Yahoo! Inc. (Nasdaq: YHOO) in 2008, and Yahoo! Finance even ran an article last June entitled, "3 Reasons Microsoft Should Acquire Twitter."
But the LinkedIn purchase benefits Microsoft more than just owning a website or standard social network.
LinkedIn now has a direct channel to find business professionals. More importantly, Microsoft now owns a site with 105 monthly active users that it can advertise its software services on for free.
TechCrunch also speculates Microsoft could use LinkedIn's online education company, Lynda.com, to help sell Microsoft products and provide assistance on how to use the products.
The second reason the LinkedIn purchase is great news for MSFT shareholders is because it furthers Microsoft's reach and commitment in profitable sectors.
In April 2014, Microsoft purchased Nokia for $7.2 billion for its phone and tablet business. The strategy behind the deal was to create the hardware and own the software for its phones. But in 2015, Microsoft had to write off $7.6 billion in losses from Nokia.
And on May 25, Microsoft had to write off an additional $950 million.
That was just days after Microsoft sold its feature phone business to FIH mobile for $350 million.
According to The Verge, Microsoft's Head of Windows and Devices, Terry Myerson, said in an internal memo in May 2015 that the company was scaling back its phone efforts.
Myerson also stated in the email that Microsoft isn't completely out of the phone game. But Nadella is focusing on more niche phone markets, like low-cost phones and business phones.
This move today signifies Microsoft is committed to growing its revenue through CRM, cloud computing, and enterprise software. It also shows strong leadership from Nadella. Instead of being stubborn and trying to make the Nokia purchase work at all costs, Microsoft's CEO has shown forward leadership that will help reward long-term investors.
Analysts at Thomson First Call have a one-year price target of $57.79 for MSFT stock. That's a profit of 16% from today's opening price of $49.58. But Money Morning Capital Wave Strategist Shah Gilani said the MSFT stock price could climb to $60 per share. And that was before factoring in the LinkedIn deal.
That's a profit of 21%.
The Bottom Line: The Microsoft stock price is down 2.5% as Wall Street reacts to the LinkedIn purchase. But these short-sighted investors only see LinkedIn will cost $26.2 billion and don't understand Microsoft's strategy. But we know that Microsoft is building an even bigger foothold in the CRM industry, projected to be worth $36.5 billion by 2017.
Jack Delaney is an associate editor for Money Morning. You can follow him on Twitter and follow Money Morning on Facebook. 
Opportunity Alert: Reckless Fed interest rate tinkering has cranked up the volume on market uncertainty, making this "contrarian" stock picker's method even more critical. You can grow incredibly wealthy using his "secret" - even when markets are going down. He's had a nearly unstoppable record of success, scoring 217 double- and triple-digit peak-gain winners in less than five years. Find out how you can get a chance to pocket these kinds of gains for yourself. Read more here...