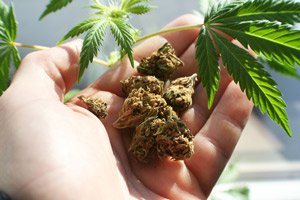 Every business, whether small, large, mainstream, or newly minted, needs systems to track inventory, sales, and compliance. Nowhere is there a bigger need for software to do just that than in the emerging legal marijuana industry.
And to the surprise of many on Wall Street, Microsoft stock could be one of the biggest winners of this situation...
Since legal compliance is paramount in separating legal weed from illicit sales, Microsoft Corp. (Nasdaq: MSFT) now finds itself in a sweet spot with its software.
As Money Morning Director of Technology & Venture Capital Research Michael A. Robinson has been saying for years, this is particularly important to the cannabis sector.
The legalization trend represents a bold social change away from nearly 90 years of prohibition. Strict compliance is a way to make legal weed safe for consumers in a regulated marketplace and palatable to "law-and-order" types in governments and legislatures.
The Marijuana Industry Is No Longer the Wild, Wild West
The legal cannabis sector is no longer the "Wild West"-style marketplace it was just a few short years ago. However, there's still plenty of volatility compared with the more established, broader markets.
That's one reason why the right pot stocks will reward forward-thinking investors with triple- and quadruple-digit gains. In fact, there's a bevy of micro- and small-cap companies, any one of which could be the next mega-cap blockbuster - the long-sought-after "Starbucks of weed" or "Facebook of pot."
The Best Pot Stocks: After months of research, we've found the most lucrative and fastest-growing legal pot stocks in America. And for a limited time, you can get all the details for free. Learn more...
However, Robinson's strategy has been to invest in more established companies that have a hand in this new burgeoning industry - but with much less risk.
You see, buying small, volatile companies is not the only way to play. That is why he recommended Scotts Miracle-Gro Co. (NYSE: SMG) and GW Pharmaceuticals Plc. (Nasdaq ADR: GWPH), both of which have returned gains of nearly 50% and 1,000%, respectively, since he first recommended them to readers.
It's also why he's so excited about Microsoft stock. MSFT isn't likely to quadruple your money, but you'll likely see double- and even triple-digit gains. It also pays a dividend (2.1% yield) that puts you way out ahead of inflation and low interest rates, too.
What's more, all kinds of small legal cannabis companies are beating a path to its door for help with a very tricky problem.
It's a classic case of selling the tools rather than the product, just as Levi Strauss, shovel makers, and saloons thrived during the California Gold Rush of 1849. Gold miners may or may not have struck it rich, but suppliers of picks and shovels did quite well. That's where we get the expression "pick-and-shovel" play in investing circles.
Microsoft's Strategy for Healthy Growth
Microsoft jumped into the cannabis business on the software side, partnering with a California-based startup called Kind Financial. Together, they help ensure cannabis companies stay inside the legal lines.
You see, Microsoft is working with Kind's "Government Solutions" division. The software will allow governments and entrepreneurs a way to monitor the distribution of cannabis "from seed to sale" and ensure compliance.
Special Report: Cannabis Is the Gold Rush of the 21st Century - 30 Stocks to Invest in Now. Details Here...
David Dinenberg, Kind's CEO, told USA Today that "thanks to Microsoft's huge reach, it'll be easier for us to target every state with our compliance solutions. It's a win-win for both of us as more states look to legalize medical marijuana."
Microsoft is one of the first major technology companies - indeed, one of the first major publicly traded companies - to acknowledge the rapid legalization of marijuana.
Sales of legal marijuana are projected to hit $6.7 billion this year, compared with $5.4 billion a year ago, according to ArcView Market Research.
By getting involved, Microsoft almost single-handedly legitimized the cannabis trade in the eyes of many major corporations.
Matthew A. Karnes, an advisor to the cannabis industry, told The New York Times that "it's very telling that a company of this caliber is taking the risk of coming out and engaging with a company that is focused on the cannabis business."
Kind's Dinenberg was even more hopeful: "I would like to think that this is the first of many dominoes to fall." Indeed, other major companies are already getting their feet wet.
For example, Oracle Corp. (NYSE: ORCL) is working with the state of New York to help administer its Medical Marijuana Program.
And in May 2016, the world's largest drugstore chain, Walgreens Boots Alliance Inc. (Nasdaq: WBA), published a 650-word blog post exclusive about medical marijuana. Some could see this as the first step leading to the eventual right to dispense cannabis.
Yet Another Microsoft Stock Catalyst for 2018
[mmpazkzone name="in-story" network="9794" site="307044" id="137008" type="4"]
Microsoft was already working with legal weed through its Azure cloud platform, which allows users to build and manage applications through Microsoft's data centers. The platform was designed to be compliant with the Health Insurance Portability and Accountability Act (HIPPA) regulations.
Azure has been growing steadily since its launch in 2010. For the first quarter of fiscal 2017, Azure revenue jumped 116%. So, Microsoft's move into the weed space spotlights the way it's leveraging the cloud to propel growth.
As marijuana moves into more and more American homes and doctor's offices, Microsoft's cannabis compliance investment will increasingly move the needle.
What's more, Microsoft gets you low-risk entry into the legal cannabis sector and a respectable 2.16% dividend yield. It is already up 24.9% year to date, easily beating the S&P 500's gain of 14.4%.
This is one to buy now and build out on dips.
Some investors remain concerned about the deadly wildfires in Northern California that have burned crops in the so-called "Emerald Triangle." It could not have come at a worse time, right before legal recreational sales begin in California, according to the Marijuana Business Daily (MBD).
The good news, however, is that it won't lead to a serious inventory shortage. The size of marijuana production in California is large enough to handle it, so said Erich Pearson, the CEO of Sparc, a San Francisco-area medical cannabis retail chain, when interviewed by MBD.
The Best Pot Stocks: After nine months of exhaustive research, we've found the best, most lucrative, and fastest-growing legal pot stocks in America. They're all in our 89-page "bible of weed investing," The Roadmap to Marijuana Millions. And for a limited time, you can get all the details for free. Go here to find out how to reserve your copy today...
Follow Money Morning on Twitter @moneymorning, Facebook, and LinkedIn.