U.S. Silica Holdings (NYSE: SLCA) stock has climbed 36.8% year-to-date and is still a buy. We see more gains ahead in 2015.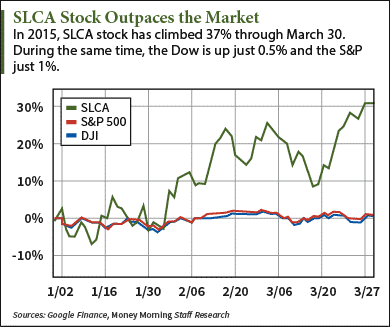 SLCA stock has regained footing after it got slammed by the energy sell-off in 2014.  U.S. Silica supplies products to oil developers, so investors panicked when the price of oil dropped more than 45% from September to December. After hitting a high of $73.43 in September, SLCA stock fell 69% to $22.71 by Dec. 16.
But as Money Morning's Defense and Tech Specialist Michael Robinson has told investors, U.S. Silica is involved in much more than energy. That's why he said in November the SLCA share price, at $45, was "stupid cheap." Today, it's at an even better buy-in point at $34.75 per share.
Here are the three big reasons SLCA stock will continue to climb throughout 2015…
Why U.S. Silica Holdings (NYSE: SLCA) Stock Is on the Rise
U.S. Silica primarily produces sand and silica products used in shale oil and shale gas fracking. Its success in the fracking industry is the first big reason SLCA stock has room to climb.
U.S. Silica is still writing long-term contracts with its customers even as some fracking companies are slowing production. In September, company officials announced four new contracts of varying lengths. The company gave limited specifics, but some contracts extended to 2019. One of them came with a $100 million prepayment.
They also mentioned that demand for frac sand – sand used in the fracking process – had grown 28.3% annually and will continue growing 10% annually through 2022.
But the fracking industry isn't U.S. Silica's only client.
SLCA has more than 250 other products that are used in the glass, chemicals, foundry, and building products industries.
"A compelling part of this investing story is U.S. Silica's specialty division, which accounts for 40% of sales, supplies such industries as housing, water filtration, and performance chemicals," Robinson told readers in late 2014.
This division, known as "Industrial and Specialty Products," makes materials used in auto and mobile device glass, housing, and construction chemicals. Its sand products are even found on golf courses and volleyball pits.
Last quarter, the division saw revenue increase 8.4% compared to the previous year. Sales volume for specialty products grew from 1.052 million tons to 1.098 million tons. That's a 3.7% jump in the quarter. Overall, SLCA's total sand sales climbed 27% in the quarter.
That growing demand has allowed SLCA to raise its prices as well. Through the first nine months of 2014, SLCA raised prices roughly 20% on all its products.
Thirdly, Robinson said the company is more technologically advanced than people realize. 
"U.S. Silica has committed itself to constant innovation, making that a key to success," he said. "In 2012 it created a new 'technical director' post and constructed an advanced research lab."
Robinson said the company's supply chain and logistics operations are "second to none in the industry."
"These operations serve as the additional barriers to entry that keeps the company's rivals on the sidelines."
SLCA has beaten earnings estimates by an average of 13.3% in its last three quarters. In its earnings report, analysts predict earnings per share (EPS) growth of 131% and revenue growth of 60.9%.
Last quarter, total revenue was up 67.1%. That far outpaces the industry average of just 10.2%. SLCA's operating cash flow was also up nearly 182% to $51.8 million. The industry average is -0.3%.
Currently, analysts surveyed by Thomson/First Call have an average price target of $39.15 for SLCA stock and one analyst has a high target of $78. Those targets would be increases of 12.6% and 124%  from today's opening price of $34.75. In February, the company announced a new quarterly dividend yield of 1.54%.
The Bottom Line: U.S. Silica Holdings (NYSE: SLCA) stock is much more than an energy play. It gives investors a way to profit from its "Specialty Products" division, which helped the company grow its total sand sales 27% last quarter. SLCA stock was beaten down by falling oil prices in late 2014, but the stock is rebounding this year. Now's a great time to buy. It's still undervalued, opening today at $34.75.

Make More Money This Year, No Matter What the Market Does… You can make 2015 your wealthiest year in a few simple moves. You just need to know the three common investing habits to dump immediately, the single most effective strategy for your portfolio, and five stocks to get you started to a wealthier you. Get all of that right now in this exclusive guide…