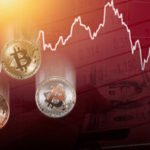 With stocks whipsawing and just about everything falling, investors who have taken the plunge into crypto are trying to figure out if now is a good time to buy Bitcoin.
After all, Bitcoin fell about 50% right at the time when the stock market was dropping the fastest.
It's made people wonder about its status as a safe haven - or if it's worth bothering with at all.