If you believe what you read in some of the mainstream financial media, investing in Bitcoin is a terrible idea that guarantees you will lose most or all of your money.
Instead of offering true insights on the pros and cons of Bitcoin investing, far too many financial columnists continue to recycle inaccurate myths that paint the digital currency as an extraordinarily dangerous investment.
Please.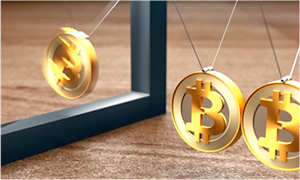 I've been researching and writing about Bitcoin for six years. Early on (in 2011), I even mined Bitcoin on my home computer. I know from personal experience that these articles are off base.
In fact, the Bitcoin price is likely to rise by a factor of more than 10 over the next few years. One Bitcoin price prediction from Wedbush Securities projects the price of Bitcoin at $17,473 by 2025.
And over the years, I've become acquainted with an assortment of influential members of the cryptocurrency community. I communicate regularly with such folks as Vinny Lingham, founder of Gyft and a Bitcoin Foundation board member, and Spencer Bogart, the managing director and head of research at Blockchain Capital.
The opinions of these knowledgeable Bitcoin insiders often contradict what's being said in the mainstream media. And these insiders are usually proven right.
The problem is that the average investor is far more likely to run across an article in Money or The Hill than the opinions of those who understand Bitcoin best.
Don't get me wrong. I'm sure most of those who write for the mainstream media are well-meaning. But it's obvious they don't quite grasp the revolutionary nature of Bitcoin and why it's such a game-changing development.
I'll give you an example…
Investing in Bitcoin Isn't Like Investing in Anything Else
Take a recent Kiplinger article, "Should I Be Tempted to Invest in Bitcoin?" The author, Taylor Schulte, is the founder and CEO of Define Financial, a San Diego-based financial planning firm.
Schulte argues against investing in Bitcoin for two reasons.
First, he claims that like other commodities, Bitcoin is an investment that produces no return. This much is true, but Schulte goes awry when he says Bitcoin's future gains will depend largely on inflation, like other commodities.
Related: How to Buy Bitcoins – Your Guide to Digital Profits
Then he switches gears and says that because Bitcoin is a currency, it can't increase in value as a result of inflation – "because that's exactly what inflation is – a decrease in the value of currency."
My head is spinning. What Schulte and others like him don't get is that Bitcoin can't be evaluated properly as either a commodity or a currency. It functions as both.
That, and its fully digital nature, makes Bitcoin a completely new animal in the world of finance. It's an odd-shaped peg that doesn't fit into any existing holes.
This kind of thinking is responsible for many of the myths about investing in Bitcoin that have sprung up over the past four years. In other cases, criticisms directed against Bitcoin apply to many, if not all, other types of investments.
Now, investing in Bitcoin isn't necessarily for everyone. But investors deserve better than these misguided arguments…
6 Stubborn Myths About Investing in Bitcoin