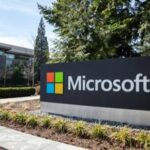 Microsoft Corp. (NASDAQ: MSFT) on Monday announced possibly its biggest news in years.
The company is paying $7.5 billion to acquire the parent company of Bethesda Softworks, ZeniMax.
Bethesda is a world-renown game developer responsible for series like "Elder Scrolls" and "Fallout."
Microsoft stock has popped about 4% since Monday, when the acquisition was first announced.
It could have been a decent blip in the broader tech world.
But was an absolute earthquake in the gaming industry.