When Tesla Motors Inc. (Nasdaq: TSLA) first announced its plans for the "Gigafactory," the company listed four states as possible homes for the world's largest lithium-ion battery factory: Arizona, Texas, Nevada, and New Mexico.
One month later, no final decision has been made, but one state is making the strongest push.
Arizona.
Currently, state legislators are pushing a bill that will allow Tesla to sell its electric automobiles directly to consumers, a business model that is banned in numerous states. Currently, automakers must sell their vehicles through dealerships in Arizona, and that's a business practice Tesla refuses to adhere to.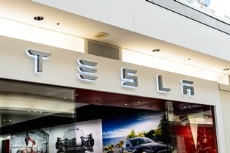 Tesla operates dozens of stores and galleries across the United States where customers can learn about and purchase the Tesla Model S sedan directly from Tesla employees. In states where direct-auto sales are banned, customers visit Tesla galleries and then purchase the vehicle online or in another state.
By actively pushing a new legislation that caters to Tesla's preferred business model, the state is attempting to restore any goodwill its current dealership-friendly legislation may have displaced.
"We wanted to send a message that Arizona is open for business," Arizona State Representative Warren Peterson told CNN.
The mayors of several Arizona cities are also getting in on the wooing of Tesla CEO Elon Musk.
Mesa Mayor Scott Smith has penned a formal letter inviting Musk to the city to explore the possibilities of building the Gigafactory there. Smith describes Mesa as having a "skilled workforce, business-friendly tax structure, and quality education system." Details of any tax incentives have not yet been released.
Tucson's Mayor Jonathan Rothschild has also chimed in.
"We are the home to the Mars exploratory mission at the University of Arizona and known nationally as the Solar City," Rothschild said. "I think Tesla will feel right at home in Tucson."

Clearly Tucson is attempting to appeal to Musk's interest in space exploration and solar energy, as he is the CEO and Founder of SpaceX and SolarCity Corp. (Nasdaq: SCTY).
Landing the Tesla Gigafactory would be a huge prize for any of the four states in the running. Here's why Arizona is making its desire so apparent...
The Impact of the Tesla (Nasdaq: TSLA) Gigafactory
In its official announcement last month, Tesla estimated that the factory will cost between $4 billion and $5 billion to complete. The size of the facility is expected to be around 10 million square feet, and the company is looking for sites between 500 and 1,000 acres.
By 2020, the Gigafactory will produce enough lithium-ion batteries for the company to build 500,000 electric vehicles annually. But the factory won't just impact the auto market...
Tesla expects battery cell output of 35 gigawatt hours (GWh) per year and battery pack output of 50 GWh per year by 2020. Huge solar panels and wind turbines adjacent to the plant are another major priority for Tesla. When the factory is completed, it could be considered a power plant as well as an auto manufacturing facility.
But most importantly, the Gigafactory will add approximately 6,500 jobs to the workforce of one lucky state.
"Without question there will be a very intense bidding war - $5 billion is a breathtaking figure," University of California Berkeley Labor Economist Harley Shaiken told Bloomberg. But it's not just the job total; it's "also the research and development related to this. That's going to be very significant."
Construction of the Tesla Gigafactory could start as soon as 2014, and the four competing states should continue to roll out the red carpet for Tesla and CEO Elon Musk. But right now, Arizona is in the best position.
Shares of Tesla stock soared nearly 12.5% the week following the Gigafactory announcement. While the stock has dipped 14% in the past month, positive news regarding the Gigafactory's construction should send TSLA higher.
Do you own Tesla stock? Which state do you think would be the best home for the Tesla Gigafactory? Join the conversation on Twitter @moneymorning using #Tesla.
When it comes to trading small-cap stocks, risk-management strategies are imperative. They allow you to still seize massive gains, without losing any sleep...
Related Articles: