Investors' appetite for dividend-paying stocks continues to grow as more U.S. companies get more generous with distributions.
Annual dividend payouts by Standard & Poor's 500 Index companies amounted to a combined $34.80 per share in 2013, FactSet reports. The research company expects that amount to grow 9.9% to a record $38.98 a share this year. Among reasons cited is the record $1.1 trillion cash sitting on S&P 500 companies' balance sheets as of April 1.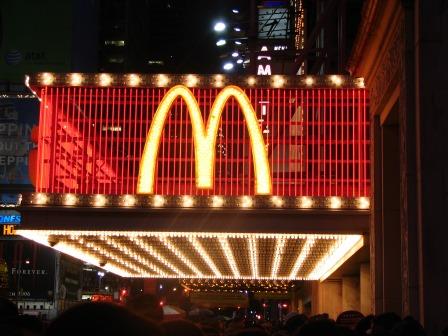 The biggest dividend stock news last week came from fast-food giant McDonald's Corp. (NYSE: MCD). The burger and fries behemoth announced plans to increase shareholder payouts by 10% to 20% over the next three years. MCD is a reliable dividend stock, fattening dividends every year since its first distribution in 1976. At Friday's closing price of $101.43, shares yield 3.19%.
Following are the 18 dividend stocks that boosted payouts in the week ending May 30.
Dividend-Paying Stocks That Just Hiked Payouts
Altisource Residential Corp. (NYSE: RESI) raised its quarterly dividend a nickel to $0.45 a share for a 5.74% yield. The enrichment marks the third consecutive quarter in which RESI has raised its payout.
Bank of Montreal (NYSE: BMO) boosted its quarterly dividend 2.6% to $0.71 a share for a yield of 4.08%. The enhancement from Canada's fourth-largest bank by assets came on the heels of solid fiscal Q2 results.
Cathay General Bancorp (Nasdaq: CATY) increased its quarterly payout $0.02 to $0.17 per share for a 1.17% yield.
Canadian Imperial Bank of Commerce (NYSE: CM) upped its quarterly dividend 2% to $0.92 a share for 4.18% yield.
Just-released: Of the almost 5,000 dividend-paying stocks to choose from, these three companies provide superior payouts and superior long-term growth potential.
China Telecom Corp. Ltd. (NYSE ADR: CHA) boosted its annual dividend 11.8% to $1.22 a share for a 2.42% yield. The telecommunications giant announced Thursday it was again voted by institutional investors and analysts as "Overall Best Managed Company in Asia" in FinanceAsia's 14th annual poll of Asia's top-performing companies. The Beijing, China company now holds the title for four consecutive years.
CSG Systems International Inc. (Nasdaq: CSGS) hiked its quarterly payout 5% to $0.1575 a share for a 2.4% yield.
Daktronics Inc. (Nasdaq: DAKT) increased its dividend by a penny to $0.10 a share for a 3.22% yield.
Deere & Co. (NYSE: DE) raised its quarterly dividend $0.09 to $0.60 a share for a 2.63% yield. The company said it is committed to providing "profitable growth and returning cash to shareholders." The increase is the 12th over the last 10 years.
Extra Space Storage Inc. (NYSE: EXR) boosted its quarterly dividend $0.07 to $0.47 a share for a 3.6% yield.
First Connecticut Bancorp Inc. (Nasdaq: FBNK) fattened its quarterly payout 33.3% to $0.04 a share for a 1.3% yield. "The increase in dividend reflects the growth in earnings per share during the first quarter," Chief Executive Officer John J. Patrick, Jr., said in a statement. "We are pleased to reward our shareholders with an increase in the cash dividend due to our profitability."
Legacy Reserves LP (Nasdaq: LGCYP) raised its monthly payout 7.5% to $0.16 a share for a near 8% yield. Check out five other monthly dividend payers here.
North Atlantic Drilling Ltd. (NYSE: NADL) hiked its quarterly dividend a penny to $0.24 a share for a yield of 9.15%.
Pegasystems Inc. (Nasdaq: PEGA) increased its quarterly dividend 100% to $0.03 per share for 0.56% yield. Wedbush upgraded the software company last week to "Outperform" from "Neutral" with a $27 price target. Shares currently traded around $21.24.
Questar Corp. (NYSE: STR) upped its quarterly dividend a penny to $0.19 a share for 3.19% yield. The dividend, payable June 23, will be the natural gas company's 278th consecutive dividend. The Salt Lake City, Utah-based company has increased its dividend 42 times in the last 42 years.
Portfolio Strategy Alert: Over time you can make more money in dividends than you paid to buy the stocks that produce them. Get today's best dividend strategy for building wealth in the low-yield era.
Salem Communications Corp. (Nasdaq: SALM) sweetened its quarterly dividend 4.3% to $0.06 a share for 2.81% yield.
SeaDrill Ltd. (NYSE: SDRL) hiked its quarterly dividend $0.02 to $1 a share for a 10.53% yield.
Ship Finance International Ltd. (NYSE: SFL) lifted its quarterly dividend a penny to $0.41 a share for a yield of 8.86%. "We continue building the asset base and charter backlog across our core business segments." Ole B. Hjertaker, Chief Executive Officer of Ship Finance Management AS, said in a statement. "We have significant capital available for new transactions and our objective is to continue building the long-term distributable cash flow."
State Bank Financial Corp. (NYSE: STBZ) juiced its quarterly payout 33.3% to $0.04 a share for 1% yield.
Today's Top Story: Investing in India now holds the same profit potential that investing in China in 1980 had - and we found the best play on India's secular bull market...