The GoPro IPO price was set at $24 per share this evening (Wednesday), which is at the high end of the company's projected range. GPRO stock will begin trading on the Nasdaq tomorrow.
The company had initially planned to raise up to $427.2 million by offering 17.8 million shares at a range of $21 to $24 per share. Pricing the shares at $24 gives the company a valuation of $3 billion.
According to Dealogic, that makes GoPro the largest consumer-electronics company to go public since Duracell International Inc. held a $433 million IPO in 1991.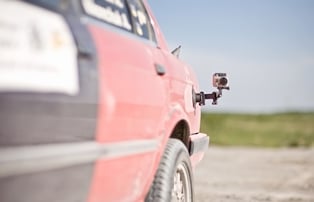 GoPro Inc. (Nasdaq: GPRO) designs wearable cameras that are used to film extreme sports like skiing, snowboarding, and surfing.
The company has used high-profile athletes including Olympic snowboarder Shaun White and world-champion surfer Kelly Slater to showcase the cameras and the footage they capture. Stuntman Felix Baumgartner filmed his highly publicized space free fall in 2012 with a GoPro camera. That footage was used in a 2014 Super Bowl commercial.
When GoPro filed for its IPO publicly in May, the company reported revenue of $986 million for 2013. At the time, GoPro Chief Executive Officer and surfer-turned-billionaire Nick Woodman claimed that the company had doubled revenue every year since its 2004 founding.
Woodman's claim wasn't far off. In 2012, the company brought in around $500 million in sales. This year, GoPro is on pace to top the $1 billion mark after posting $236 million in the first quarter of 2014.
On top of huge revenue, GoPro is also profitable. In 2013, the company reported profit of $60 million, and in the first quarter of this year, profit stood at $11 million.
According to the GoPro IPO prospectus, the company's cameras were the top-selling camcorders by sales and units in the United States in 2013.
While GoPro's revenue stream and profit margins are strong heading into the IPO, those are only some of the factors that will drive GPRO's success in the long term...
Life After GoPro IPO: How GPRO Stock Can Succeed
GoPro has developed a strong fan base for its cameras and video footage. How it monetizes that brand loyalty, after consumers have already purchased a camera, will be a key for the company moving forward. It can't continue to grow if it only sells cameras...
"GoPro plans to continue to introduce new cameras, develop a seamless content management, editing, and sharing ecosystem, scale up as a media brand, expand into new vertical markets, grow internationally, and expand its current presence in retail channels," International Data Corp. (IDC) research analyst Christopher Chute wrote in a report.
Additionally, Woodson told The New York Times at the time of the filing that GoPro plans on becoming a diversified media company.
GoPro shares an abundance of footage captured on its cameras through its YouTube channel, which has already amassed 470 million views and 1.8 million subscribers. According to Michael Pachter of Wedbush Securities, GoPro would like to create its own programming channel for either cable TV networks, satellite TV networks, Netflix Inc. (Nasdaq: NFLX), or Amazon.com Inc.'s (Nasdaq: AMZN) streaming service.
Another important factor for GoPro will be maintaining its market share as competition ramps up.
Currently, GoPro controls 54% of the action-camera market. And according to IDC, the action camera market grew by 70% in 2013.
Because of the quick growth of the action-camera market, it makes sense for competition to arise. Sony Corp. (NYSE ADR: SNE) is reportedly working on its own point-and-shoot cameras, while other products like the BulletHD helmet camera and the 360-degree Centr Camera are already on the market.
"It's a large market. However, I think it will be hard for any company to displace the broadly recognized brand that GoPro has become- unless the quality of their products suffers or they mis-execute in the business somehow," Katherine Barr, general partner at Mohr Davidow Ventures, told CNBC.
Do you plan on investing in GPRO stock following the GoPro IPO? Let us know on Twitter @moneymorning using #GoPro.
Money Morning has the perfect opportunity to play now, before anyone else even realizes they can profit. Finally, there's a safe way to own a piece of Africa's $1 trillion resource rush...
Related Articles: